Kashagan Restart Gives Kazakhstan Hope
The oil project met its deadline, but will it be sustainable?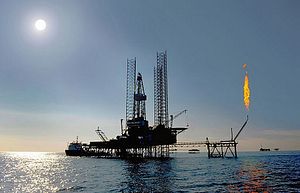 At the end of the last century, Kashagan was the largest oil discovery in a generation. Off the coast of Atyrau, an oil city on the Caspian Sea, Kashagan's platforms have been Kazakhstan's big hope to enter the top 30 most industrialized countries in the world. It has now finally begun sending its oil onshore for export, after long and often disappointing delays.
Kazakhstan's minister of energy, Kanat Bozumbayev, confirmed the re-start of the Kashagan project, which had started in September 2013 but was abruptly halted due to faulty pipes. Three years ago, Kazakh officials were extremely excited when the project began and then retreated to a long period of denial after the project was halted, saying that it was just a hiccup.
This time, to avoid losing face again, Kazakh officials have been more cautious, almost mundane, when addressing the progress at Kashagan. "I checked this morning and production is active from four wells, yielding approximately 90,000 barrels/day," Bozumbayev told local media.
Kashagan's oil is handled onshore by state-owned KazTransOil, which will send it on through pipelines to the Russian port of Novorossiysk and to China. Despite optimism from the Azerbaijani side, it is unlikely that Kazakhstan will also resume barge shipments across the Caspian Sea from Atyrau to Baku, which it effectively halted last year due to costs.
Costs have become a headache for Kashagan. Aside from being behind schedule, the project is also significantly over-budget. Estimates of its cost since the contract was signed in 2000 surpassed $53 billion last year. Analysts have said that at oil prices below $100/barrel, the companies running the North Caspian Operating Consortium will incur losses.
The bonanza years of high oil prices during which Kashagan was supposed to sell its crude seem gone now. Since halving in the summer of 2014, oil prices have continued on a downward trend, picking up again only recently, rising to around $50/barrel. For many, that figure is below production costs at Kashagan.
But the government has shown an unwavering attitude towards resuming production before the end of 2016. Last year, then-Prime Minister Karim Massimov set a hard deadline for the beginning of 2017. Since then, official forecasts have drawn the start date closer and closer. Despite a weaker PR campaign compared to three years ago, the project is nonetheless officially operating as of October 12.
The re-start of Kashagan is important because it gives credibility to Kazakhstan's oil sector. For the first time since independence, oil production had shrunk for two consecutive years in 2014 and 2015. Kashagan's new oil could help Kazakhstan's total production avoid another fall this year.
The government now hopes to push production up again. In a couple of years, at its peak, Kashagan will yield 370,000 barrels/day, according to the ministry. In a second phase – for which there is no timeline yet – the field could eventually yield around 1 million barrels/day. Eni, Shell, ExxonMobil, Total, CNPC, Inpex and Kazakhstan's state-owned Kazmunaigas, which jointly own the project, hope that by then oil prices would have increased again. Unless the oil market changes course dramatically, however, the companies will have to wait a while before recovering their costs.
If on the one hand oil companies have suffered from low oil prices, in Kazakhstan they were able to reap the benefits of an increasingly weaker tenge currency, which is now worth less than half than its value at the time of Kashagan's false-start in 2013. This has contributed to lower costs for personnel and certain goods and services for the consortium at Kashagan and other companies in Kazakhstan's western oil regions. Some local workers reacted to their lighter paychecks by staging peaceful strikes that the government appeased by handing out more contracts.
The government doesn't want anything to get in the way of Kazakhstan's return to the top league of oil producers with the re-start of Kashagan. If the project successfully makes it through the winter, Kazakhstan will finally be able to stop holding its breath.