Pakistan to Sell 100 Military Aircraft to Turkey
Pakistan will export 100 MFI-395 Super Mushshak military training aircraft to Turkey, a senior Pakistani officer says.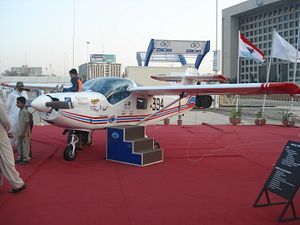 The chairman of the Pakistani Senate's Standing Committee on Defense, retired Lieutenant General Abdul Qayyum, announced on October 4 that Pakistan Aeronautical Complex (PAC) will export 100 MFI-395 Super Mushshak military training aircraft to Turkey, according to local media reports.
In 2013, the Turkish Air Force (TAF) announced a requirement for 52 military training aircraft to replace its aging fleet of Italian-made Leonardo light trainers. The deal, once signed, would be PAC's largest export order in its history. PAC won the competitive bidding process in July 2016.
The Pakistan Ministry of Defense Production and Turkey are currently locked in negotiations and still have not concluded a contract. It is unclear whether the contract will be for 52 or 100 aircraft. It is also uncertain whether other entities in Turkey, besides the TAF, are in need of additional military training aircraft.
The MFI-395 Super Mushshak is a PAC licence-built variant of the Saab MFI-17 Supporter aircraft, which Pakistan acquired from Sweden in the 1980s. In comparison to its Swedish predecessor, the upgraded MFI-395 variant features a new engine and a new flight control system, among other things.
Fitted with six hardpoints under the wing pylons, the aircraft can be armed with rockets and missiles. The MFI-395 entered service in 2001. The Pakistan Air Force (PAF) is currently operating around 300 Super Mushaks at various training facilities. Other customers of the MFI-395 include Iran, Iraq, Oman, and Saudi Arabia.
In comparison to the MFI-395 Super Mushak, Pakistan has had less success in exporting its Pakistan Aeronautical Complex/Chengdu Aerospace Corporation (PAC/CAC) JF-17 Thunder fighter jet. Islamabad still has yet to secure its first international customer for the aircraft, although there have been repeated announcements over export deals in the past.
Myanmar in 2015 has allegedly placed an order with China for a squadron of JF-17 fighter jets, although this has not been officially confirmed. Sri Lanka also expressed interested in the plane. Nigeria and Pakistan are slated to ink a deal for an unknown number of JF-17 in November 2016. Pakistan has also pitched the aircraft to Kuwait.
"The JF-17 is a lightweight, single-engine, multirole combat aircraft, powered by a Russian-designed but Chinese-built Klimov RD-93 (RD-33 derivative) turbofan, capable of reaching a top speed of Mach 1.6. The fighter purportedly has an operational range of around 1,200 kilometers (745 miles)," I noted previously. All in all, there are 65 JF-17 aircraft currently in service with the PAF. The JF-17 is meant to replace the PAF's remaining Dassault Mirage III/5 fighter jets by 2o20.