There's been plenty of proposed new railways in Southeast Asia over the years, but few have come to fruition. While China now has a high speed railway network spanning over 20,000 km, most of Southeast Asia's railways still run slowly on narrow gauges.
Things are starting to change though, with new lines planned to previously unconnected cities, several high speed railway projects, and a grand central station that will become a railway hub of mainland ASEAN.
I've been keeping track of every news report for railway proposals in Southeast Asia. Using the information from these reports, I've made a map of future Southeast Asia.
This is what Southeast Asia would look like if every proposed railway was built.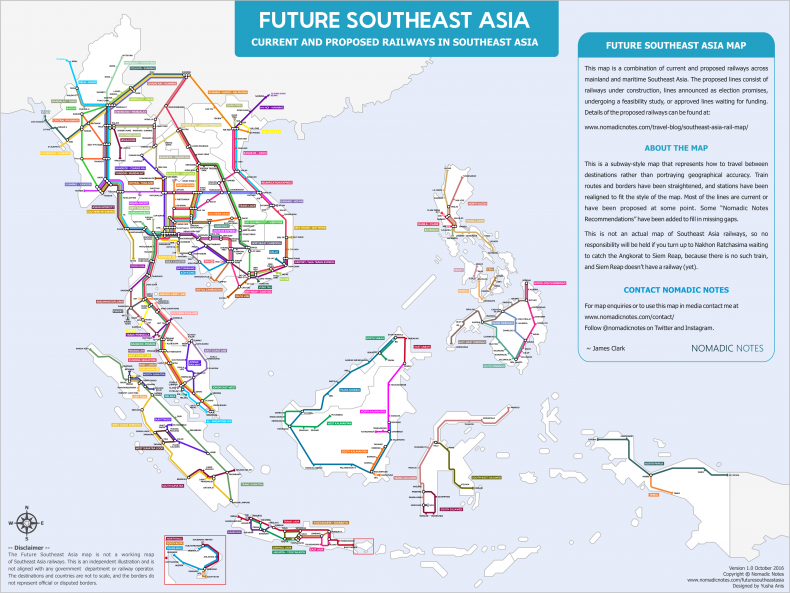 (Click here to view the full size map)
This map is a combination of current and proposed railways, with four extended lines added as my own recommendation. The design is subway-style to better visualize how to get from one city to another.
The original plan was to plot the map as the railway would travel; however, most of the proposed lines don't have an official route yet, so making a geographically accurate map wasn't possible. In keeping with the subway theme I've created names for the lines, and created routes of newly connected cities.
The map includes all proposed railways, no matter how outrageous they may seem. For example a proposed 560 km railway in Bali is included, even though the numbers of the proposal don't stack up.
Here are some of the highlighted proposed railways.
Singapore-Kunming Railway Link
The biggest project in the region is the Singapore-Kunming Rail Link (SKRL), which has been in the news for years. There are three routes that have been proposed, all of which descend on Bangkok before continuing down the peninsula to Singapore. One line goes through Myanmar, another through Vietnam and Cambodia, and one through Laos.
The Laos route is the most direct, but it will also be the most challenging to construct. Laos currently has no railway apart from a 3.5 km extension of Thai railways across the Mekong to a station near Vientiane. The proposed SKRL will travel through Laos, from the China-Laos border to Vientiane, and onward to Bangkok and Singapore. The Laos section is over 400 km, and over half of that distance will be traversed by bridge and tunnel. This will be a standard gauge railway that can travel at 160 km/h. If this gets built it will become a benchmark for future projects in the region.
In late 2015 construction of the Laos section was launched at an official shovel ceremony, then unceremoniously put on hold until an agreement on funding could be made. It now appears that construction will finally begin in earnest in December this year.
Bang Sue Grand Central Station
While most of Thailand's planned new railways are in perennial proposition mode, one big infrastructure project that is currently under construction is the Bang Sue Grand Central Station. This new station is being built next to the current Bang Sue station, and will replace Hualamphong as the main station of Bangkok. The new station will have 24 platforms, making it the largest train station in Southeast Asia (and one of the largest in the world in terms of platform numbers).
Singapore-Kuala Lumpur High-Speed Rail
This project has also been in the news for years, but now both countries have committed to beginning construction in 2017.
The Singapore-Kuala Lumpur route is an ideal high speed railway city pair. The two capitals are about 350 km apart, which is close enough for rail to be a viable alternative to flying. The train will travel on a standard-gauge line separate from the current meter gauge that travels between the two cities. At 300 km/h the trip is estimated to take 90 minutes, including stops on the way.
Trans-Sumatra
The largest island in Indonesia currently has three small lines. A planned Trans-Sumatra railway would travel over 2,000 km from Banda Aceh in the north to Bandar Lampung in the south.
Mindanao, Philippines
The Philippines currently has a fragmented railway on Luzon which travels from Manila to the south of the island. With new President Rodrigo Duterte hailing from Mindanao and his recent pivot toward China, perhaps renminbi will soon be flowing towards building a Mindanao railway network.
To see all of the proposed lines that make up the map visit here.
James Clark is an Australian travel writer based in Vietnam and can be found online at nomadicnotes.com.