Why Is China's Top Military Official Visiting Central Asia?
With Xu Qiliang making stops in Kazakhstan, Tajikistan and Kyrgyzstan, China is continuing to boost security relations in the region.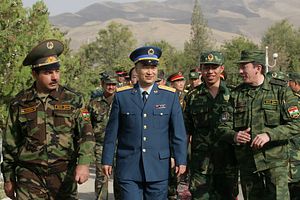 China's top military official, Vice Chairman of the Central Military Commission Xu Qiliang has been making his way across Central Asia, underscoring China's increasing security interests and activities in the region.
On August 30, Chinese Defense Ministry spokesperson Senior Colonel Wu Qian announced that Xu would be traveling to Kazakhstan, Tajikistan and Kyrgyzstan in early September to implement agreements reached between the Central Asian leaders and Chinese President Xi Jinping.
Xu's visits, Wu said, would include talks between Xu and regional military leaders and visits to military installations. "General Xu Qiliang's visit will deepen the strategic mutual trust with these three countries, and promote the pragmatic cooperation in the military field in a substantial and deep manner," he said.
President Xi most recently met with Central Asian leaders in June in conjunction with the Shanghai Cooperation Organization (SCO) summit in Qingdao, which welcomed India and Pakistan as new members. Xi had individual meetings with Kyrgyz President Sooronbay Jeenbekov, Kazakh President Nursultan Nazarbayev, Tajik President Emomali Rahmon and Uzbek President Shavkat Mirziyoyev ahead of the summit.
Each meeting highlighted brotherly relations between China and the Central Asian states, expressed the leaders' mutual commitment to fight the "three evils" of terrorism, separatism and religious extremism, and made reference to the Belt and Road Initiative. In the public statements put out by the Chinese, military matters are not mentioned directly through most assuredly entered the discussion of combating the "three evils."
Kyrgyzstan and China agreed in June to establish a comprehensive strategic partnership. China raised its relations with Kazakhstan to the comprehensive strategic partnership level back in 2011 and agreed to do so with Tajikistan last year, with headlines highlighting increased intelligence exchanges.
With that background, Xu's visits to Kazakhstan, Kyrgyzstan and Tajikistan mark additional, steady efforts to strengthen security relations between China and the countries of Central Asia.
Xu's first stop was in Kazakhstan where on September 4 he met with Chairman of the Kazakh Senate Kassym-Jomart Tokayev. Xu also, according to the Chinese, met with Defense Minister Nurlan Ermekbaev.
Later that same day, according to local media, Xu touched down in Tajikistan for a three-day visit. On September 5, Xu met with Tajik President Emomali Rahmon as well as with General Sherali Mirzo, the country's defense minister.
Presumably, Xu's visit to Kyrgyzstan in the coming days will follow a similar pattern.
Details, of course, are thin and filtered through bland diplomatic language — talk of being "friendly" and "great" neighbors, mention of the BRI, and so on. Nevertheless, the fact that Xu is spending three days in Tajikistan is meaningful. In Tajikistan, China's interests are heavily influenced by the country's long borders with not only Afghanistan but Xinjiang. In late August, the South China Morning Post reported that a source claimed that Beijing was building a training camp in Afghanistan's Wakhan Corridor, which borders Tajikistan. The corridor gives Afghanistan a very small and very mountainous border with China. As I wrote last week with regard to the talk of a "training camp" in the area, "Tajikistan serves as vital link in the chain between China and Afghanistan." Given the terrain, sparse infrastructure, and difficult-to-control borders, China's concerns about the overall region necessitate deepening defense relations with Tajikistan in addition to similar strengthening of security relations with Pakistan and Afghanistan.