Can China's Ambitious OBOR Mesh With Russian Plans in Eurasia?
Russia realizes the importance of partnership with China, but remains suspicious and cautious.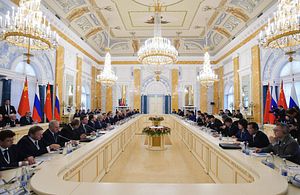 At the Shanghai Cooperation Organization (SCO) Head of Governments summit in Bishkek on November 4, China urged the building of a free trade zone within the SCO that will help to remove trade barriers. Premier Li Keqiang, the head of the State Council of China, said that China is open to the setting-up of an SCO free trade area, and would like to see an FTA feasibility study among SCO members. He highlighted the ongoing efforts to enhance synergy between China's Belt and Road Initiative and the Eurasian Economic Union and urged member states not to close doors but establish a free trade zone that gives impetus to relations.
However, China's free trade zone initiative seems to be untimely, taking into account that some SCO members have already entered the Eurasian Economic Union, established and dominated by Russia. Moscow simply is not in a position to deal with a new free trade zone within the SCO, since it is already struggling to deal with the EEU's internal tensions and problems. It is obvious that there is a clash between the EEU and China's idea to create a free trade zone in the SCO. Moscow fears that cheap Chinese goods might invade its markets through Kyrgyzstan and Kazakhstan. Furthermore, as Prime Minister Dmitry Medvedev noted, Russia has to think about WTO tariffs as well, having entered the World Trade Organization after long years of waiting. Thus Medvedev spoke about difficulty of the SCO free trade question, noting the issue is complicated.
A new free trade zone proposed by China might become a new burden for Russia, whose economy is already stagnating thanks to low oil prices and international sanctions. Moscow first must deal with those member states that have not yet felt the benefits of the EEU, gains often overwhelmed by economic turmoil and tariff disputes. Tensions among the EEU members further deepened when Kazakhstan became a WTO member, due to the accession conditions that demand lower tariffs then those adopted by the EEU. Kyrgyzstan, which entered the WTO in 1998 and for many years enjoyed low tariffs and cheap goods from China, is currently in the most difficult situation. The EEU's increase in customs duties on goods from China was painful for Kyrgyzstan as the country lost its ability to re-export these goods, which had been an important source of income. Kyrgyzstan, with a pro-Russian president, now relies on ad hoc financial assistance from Moscow, however the promised EEU miracle has not happened yet.
There is no evidence that the EEU will eventually meet the expectations of member countries and its future is under question. The problem is that the EEU is a Russia-dominated bloc and serves purely to advance the Russian economy. Russia's gross domestic product represents about 86 percent of the GDP of the entire EEU; the GDP of Kazakhstan, the second biggest in both size and economic potential, represents less than 10 percent, Belarus approximately 3.5 percent, and Armenia and Kyrgyzstan less than 1 percent together. So Russia dominates the decision-making process within the EEU, for example, putting in place a single external tariff for EEU members based on Russia's pre-existing high trade tariffs. One simple example of the repercussions is that Kazakh people buying cars now must pay much more than before. Kazakhstan produces no cars, but it has been forced to increase its car tariffs to Russia's level. As World Bank experts have noted, this Union "creates an opportunity for Russia to expand its exports and its presence in Central Asia at the expense of exports from other countries, such as the European Union and China."
We should not forget that the EEU is not a purely economic bloc. It pursues  a political goal as well: Moscow wants to remain a major power in Eurasia. The Kremlin established the EEU to prevent Central Asian states and other CIS countries from being absorbed into rival regional blocs, including China's projects. Hillary Clinton once called this kind of integration an effort to "re-Sovietize." It is obvious that Russia has the political objectives to keep some post-Soviet countries in the region on a short leash. Thus Russia might consider broader economic integration with China in the future, but always will stay cautious toward China, just as Moscow does toward the United States.
Last year China and Russia started talking about connecting Russia's EEU with China's OBOR project. Although Chinese sources are describing this partnership as a real game changer, the integration initiative has taken no concrete steps so far; it is only in the consultation phase. However, some experts are still positive about bilateral relations between the two countries. China-Russia ties have deepened in the last years as shown by new trade agreements, including resumed arms sales, which have reached $5 billion in 2016.
The OBOR initiative is supposed to cover 60 countries over the world and China plans to invest $890 billion into more than 900 projects in these countries. Of that, $40 billion is to be invested in infrastructure for trade routes from western China through Central Asia and Russia to the Middle East and Europe. As the Financial Times highlighted this will become "the largest program of economic diplomacy since the U.S.-led Marshall Plan for postwar reconstruction in Europe, covering dozens of countries with a total population of over 3 billion people."
China denies having a political agenda for its economic ambitions, but the fact remains that OBOR is a global project that will allow China to bypass Russia economically, politically, and geographically. This alternative route starting from Xinjiang will pass through Kyrgyzstan, Kazakhstan, and Azerbaijan and across the Caspian into Turkey and the EU. This will open new doors not only for China; Turkey and the EU would be happy to use this route to avoid dependence on Russia.
Being the world's top exporter since 2010, China has many advantages that set it apart from Russia, such as cheap prices, diversified goods, and well-established channels for merchandise sales. Thus Central Asian countries would be happy to secure and develop very close economic ties with China; however, Russia will firmly protect EEU arrangements even if they are not working well.
Compared to China, Russia is in a difficult position, being isolated by sanctions and hit by low oil prices and the ruble's devaluation. As long as oil prices remain low, the Russian economy will continue suffering. According to calculations by the Economic Expert Group, a Russian consulting company, an annual drop in the price of a barrel of crude by $1 causes a loss of $2.3 billion to the state budget. Moscow feels that it needs China as an ally since Beijing has more investment capabilities. Furthermore, despite conflicting aims, Russia hopes that integration with OBOR is a chance for the EEU to gain greater international legitimacy.
Although Russia is cautious about China's free-trade zone initiative at the moment, the two countries might start feasibility studies and consultations. Many experts agree that China is the inevitable future economic hegemon, so Moscow should take steps to stay as an important actor in the region. Already in 2013, trade between China and the five Central Asian states was $50 billion, while the five states' trade with Russia amounted to only $30 billion. Accordingly, experts argue Sino-Russian relations should keep a "division of labor" in Central Asia. If China is an economic hegemon, responsible for the Asian Infrastructure Investment Bank and the potential SCO development bank and investing in small countries, Russia should secure its place as a guarantor of security with its military bases and arms deals. As Alexander Gabuev, senior associate of the Carnegie Moscow Center, told Foreign Policy, "China would be the bank and Russia would be the big gun."
If China and Russia continue to discuss the combination of the EEU and the OBOR in the future, the SCO will be the right platform. China is a founder and leading country in the SCO and the initial goals of the organization, put forward 15 years ago, have been almost achieved. The SCO is now expanding and setting new goals. Thus it is rational to choose the SCO as a platform to start the integration of economic projects involving observer countries and dialogue partners. However, both China and Russia should make efforts to make concessions and not try to harm the other or benefit at the expense of others. Only then the OBOR and the EEU can work as complementary to each other, rather than rival structures.