China, India Hold Joint Military Drill
China and India kicked off a joint military exercise today in western India.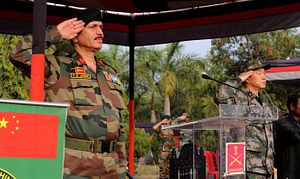 Soldiers of the People's Liberation Army (PLA) and the Indian Army (IA) kicked off the sixth iteration of an annually held military exercise, dubbed Hand in Hand 2016, in the city of Pune in western India, the Indian Ministry of Defense (MoD) announced on November 16.
According to the MoD, an opening ceremony was held today at the Aunt military base in Pune, including a parade with senior Chinese and Indian military officers present.  The exercise is scheduled to last for 11 days, until November 27. Both sides dispatched a company, around 140 troops, to participate in the exercise, which will primarily focus on joint counterterrorism operations. Chinese troops taking part in the drill are from the 13th Group Army from the Chengdu Military Region. India is dispatching an infantry company from its Southern Command.
"During the drill (…) the troops will be mingled and regrouped into two companies, and conduct exhibitions, training, and exercises of joint counterterrorism reconnaissance operations, removing improvised explosives and combating terrorists in semi-urban environment," according to China Military Online.  The drill will be conducted in three phases: familiarization with weapons and equipment, basic training under combat conditions, and a joint exercise that will see the participation of senior military observers.
"The exercise is planned at the company level with respective battalion headquarters controlling the training. The exercise is supervised by a Joint Directing Panel comprising senior officials of both the countries," the Indian MoD notes. Furthermore, the Indian MoD explains that "the basic objective of the training is enhancing confidence and trust between the two armies which may be called upon to grapple with anti-terrorism operations under the UN mandate."  Furthermore, "the conduct of joint military exercises is also an important step to uphold the values of Peace, Prosperity, and Stability in the region. "
The first Hand in Hand military drill took place in Yunnan province, China in 2007; the last drill also occurred in Yunnan. India has hosted the military exercise a total of three times in the past (See: "China and India Hold Joint Military Exercise"). The October 2015 drill involved 175 soldiers from the Indian Army's Naga Regiment of the Eastern Command and 144 military personnel from China's Chengdu Military Area Command.
Last October's exercise was accompanied by anti-Western rhetoric in China. An editorial in the Global Times accused the West of misinterpreting the nature of the joint Sino-Indian military drill on purpose. "As a new measure of establishing mutual trust, there is no point in making a fuss over the drill. Confrontations in recent years were not created on purpose, but happened by accident. Leaders from both China and India have consensus and enough means to take divergences under control," a Chinese scholar stated in the opinion piece.