Indonesia-Australia Defense Relations in the Spotlight
A look at where defense ties stand in some key areas following the fourth "2+2" dialogue.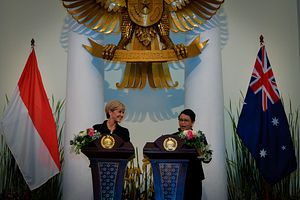 The bilateral relationship between Indonesia and Australia, two neighboring, significant and highly-capable actors in the Indo-Pacific, has long been turbulent. But since the emergence of Australian Prime Minister Malcolm Turnbull last September, the bilateral relationship has been given a new boost. Turnbull made a successful trip to Jakarta in November last year, and Indonesian President Joko "Jokowi" Widodo is set to reciprocate that with a visit Australia next month.
Ahead of Jokowi's trip, the two sides held the fourth "2+2" dialogue between their foreign and defense ministers, the primary forum to discuss defense and strategic issues within the bilateral relationship. The dialogue provides an opportunity to assess where they are on some key areas in their defense ties.
Unsurprisingly, most media attention was focused on the deliverables on the maritime security front. The joint statement noted areas for future collaboration, not just bilaterally, but also in regional and multilateral forums such as the Indian Ocean Rim Association, which Indonesia is chairing until 2017, and the East Asia Summit, with Jakarta and Canberra convening the 2016 Maritime Security Cooperation Seminar in Sydney.
But Indonesian Defense Minister Ryamizard Ryacudu stole the headlines when he said Indonesia and Australia were well on their way to starting bilateral patrols covering the South China Sea and the Sulu Sea (See: "Are Indonesia and Australia Mulling South China Sea Joint Patrols?"). Of course, combined patrols between Australia and Indonesia are far from new. The Australian Defense Force and Indonesian Armed Forces have been conducting coordinated maritime security patrols (AUSINDO CORPAT) since the first one in April 2010. This March, the Australian Border Force (ABF) conducted a maritime security patrol with the Indonesian Coast Guard (BAKAMLA), which is just beginning to take off under Jokowi (See: "Indonesia's Maritime Ambition: Can Jokowi Realize It?").
But focusing on the South China Sea and the Sulu Sea would no doubt be a significant step. With respect to the South China Sea, having two capable non-claimants maintain a combined, regular presence in the Indo-Pacific is a clear example of regional states managing a maritime front that has become increasingly tense following China's growing assertiveness there. The Sulu Sea also offers additional opportunities for cooperation given the increased attention to it of late, including with trilateral patrols between Indonesia, Malaysia, and the Philippines (See: "Confronting Threats in the Sulu-Sulawesi Seas: Opportunities and Challenges").
There were also other issues discussed beyond maritime security. One important area of bilateral cooperation is counterterrorism amid growing worries about the Islamic State (See: "ASEAN's Islamic State Conundrum"). Though cooperation here in areas like intelligence-sharing has been ongoing – albeit interrupted at times by crises and to an extent limited by some lingering distrust – it has gotten a boost over the past year or so. Last year, both sides set up and held the first meeting of the Indonesia-Australia Ministerial Council on Law and Security, which is now regarded as the primary forum to discuss matters of domestic law and security, including counterterrorism, complementing the "2+2" dialogue, which deals with defense and strategic issues.
Collaboration in specific areas is also picking up, with countering terrorism financing being a case in point. The inaugural Asia-Pacific Counterterrorism Financing Summit was launched last November and co-hosted by both sides. Though its existence may not be known to many, it is already making headway, developing a regional risk assessment on terrorism financing in Southeast Asia – the world's first. The second meeting was held in Indonesia this August. Australia has also been working with Indonesia on detention and reintegration, as both are co-chairs of the Detention and Reintegration Working Group within the Global Counterterrorism Forum (GCTF). In September, Australia's Foreign Minister Julie Bishop officially launched the GCTF Countering Violent Extremism in Prisons Program, which has already been helping prison officials in Indonesia curb radicalization in prisons – long a problem in the country's cells.
Cybersecurity is another area that deserves attention, especially since it is getting more formal attention in regional meetings. In June, the ASEAN Defense Ministers' Meeting Plus (ADMM-Plus) added a working group focused on cybersecurity (See: "ASEAN Defense Chiefs Agree to New Cybersecurity Group"). There are also a number of cyber efforts focused on measures such as incident response, confidence-building, and cyber-capacity-building. Earlier this month, Singapore unveiled the ASEAN Cyber Capacity Program at the inaugural ASEAN Ministerial Conference on Cybersecurity (See: "Singapore Unveils New ASEAN Cyber Initiative").
The Australia-Indonesia joint statement was a bit vague on this cybersecurity relative to what some had expected, merely noting that the ministers had committed to "elevating security cooperation" including in the area of capacity-building. But there have been efforts to foster collaboration between the Indonesian National Desk for Information Resilience and Cyber Security and the Australian Cyber Security Center (Indonesia does not have its own cybersecurity agency as yet) (See: "Does Indonesia Need a New Cyber Agency?"). The statement also mentioned that the inaugural Indonesia-Australia Cyber Policy Dialogue will be held in Australia "at the earliest opportunity."
Other areas of defense cooperation were also discussed between the two sides and included in the formal agenda. For example, the joint statement made reference to Australia's support of Indonesia's vision of providing 4,000 peacekeepers by 2019 as well as the establishment of the Bali Declaration on People Smuggling, Trafficking in Persons, and Related Transnational Crime. The two defense industries have also agreed to develop a mine-resistant armored vehicle, based on the Australian Bushmaster design and customized for the Indonesian military's operational needs.
But beyond the specific agenda items at this "2+2" meeting, what is clear is that both sides are committed to strengthening the Indonesia-Australia defense relationship, and that this commitment is already yielding some significant returns. Though defense will be only one of several areas in focus when Jokowi visits Australia, that is a point that is worth remembering.