Japan's Military Deploys Abroad With New Rules of Engagement
The Japanese government has approved new duties for Japanese peacekeepers in South Sudan.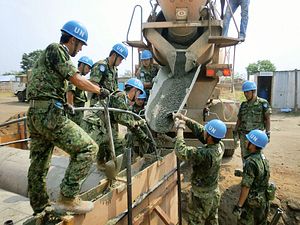 This Monday, combat engineers of the Japan Ground Self Defense Force (JGSDF) deployed for the first time to South Sudan as part of the United Nations peacekeeping mission in the country with an expanded set of duties and new rules engagement, The Japan Times reports.
According to the Japan Self Defense Force (JSDF) information department, 67 Japanese peacekeepers arrived in the morning of November 21 in South Sudan's capital of Juba. A second batch of 63 soldiers arrived in the late afternoon. The entire contingent of 350 JSDF troops is slated to deploy by the middle of December.
The Japanese peacekeepers will replace a previous contingent of JGSDF engineers. The soldiers will be responsible for engineering and construction in the South Sudanese capital. Among other things, they will engage in road construction and help build refugee camps.
However, for the first time since the beginning of Japan's involvement in South Sudan in 2012, the military engineers will be allowed to come to the rescues of UN staff and non-governmental organizations' personnel under armed attack using deadly force.
Under their new rules of engagement, Japanese peacekeepers are also now allowed to come to the rescue and support fellow UN troops of other peacekeeping contingents and can engage in military security operations including patrolling and vehicle inspections at checkpoints.
The combat engineers practiced various scenarios involving the use of force during their pre-deployment training in Japan.
However, given that the Japanese peacekeeping contingent consists of combat engineers and not infantry soldiers, it is unlikely that they will be dispatched to assist UN troops engaged in a firefight unless no troops from any other country are available.
In September 2015, I speculated that Japan might dispatch a special infantry unit for those kinds of operation to the South Sudan. Nonetheless, this turned out not to be the case (See: "Japan's Military Gets New Rules of Engagement").
Furthermore, while the JSDF in South Sudan can use their weapons to defend civilians and fellow peacekeepers, they are not allowed to use force against a regular military such as the Sudan People's Liberation Army.
The JSDF's new duties and rules of engagement also only apply to South Sudan's capital and its environs.
The Japanese peacekeepers' updated rules of engagement and expanded duties are a result of legislation that was passed by the Upper House of the Japanese Diet in 2015 under the initiative of Japanese Prime Minister Shinzo Abe.
The so-called Permanent International Peace Support Law and the Legislation for Peace and Security facilitate the deployment of JSDF logistical support units abroad and provide the legal foundation for the reinterpretation of article nine of Japan's pacifist constitution.
Yet, as I explained elsewhere, (See: "Why China Should not Worry About Japan's New Security Laws"), Abe "has repeatedly noted that the reinterpretation does not even apply to UN Security Council-sanctioned peace enforcement operations that would involve the JSDF actually engaging in combat, but is rather confined to logistical support activities, since the use of force outside self-defense remains unconstitutional."