Malaysia's New Anti-Terror Force
Country forms integrated special operations unit to respond rapidly to terrorism threats.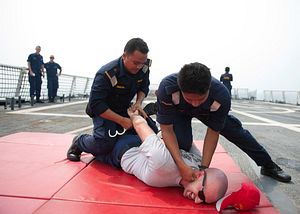 Last week, Malaysia launched a new integrated special operations unit to respond rapidly to terrorism threats and attacks.
The National Special Operations Force (NSOF) – comprising officers from the Malaysian police, army, navy, and coast guard – will be the first responders to local terror threats, Malaysian Prime Minister Najib Razak said in a speech during the unit's launch at an army camp.
According to Najib, Malaysia is the first country in the world to form an integrated security force to respond to terror threats.
According to a statement by Malaysia's defense ministry, NSOF will serve as a quick reaction force, mobilizing land, air, and maritime units to confront a threat before handing over the reins to security forces. No further details were given as to how NSOF would operate.
NSOF, which Najib described as almost fully operational, will comprise 170 personnel, including 17 officers, and will be based at the Sungai Besi military camp just outside the Malaysian capital city of Kuala Lumpur. NSOF personnel would initially be seconded from the various agencies, with designated posts made once the unit is actually fully operational.
Najib said NSOF was being formed as part of the country's National Blue Ocean Strategy (NBOS). Malaysia is one of the key countries that has served as a test case for the "Blue Ocean Strategy," developed by two business professors, which argues that sustainable success comes from creating blue oceans of untapped new market spaces ripe for growth. Officially, Malaysia's NBOS involves more than 80 ministries and agencies, with areas including not only safety and security, but also public service, women, youth and family, entrepreneurship, and education.
Najib's announcement comes amid a rising Islamic State threat in Southeast Asia (See: "ASEAN's Islamic State Conundrum"). Malaysia itself experienced the first ISIS attack on Malaysian soil when a grenade blast hit a nightclub in Puchong back in June. The attack came after months of arrests, deadly plots foiled by authorities, and worrying disclosures about some civil servants and even security forces being either actively involved in or sympathizing with ISIS (See: "How Serious is the Islamic State Threat in Malaysia").
In his remarks, Najib said that 250 Malaysians involved with the group have been detained thus far, 32 have died in Iraq and Syria, and more than 60 people are still fighting for the group.
But the NSOF would not only be involved in tackling the Islamic State threat. Malaysia also faces a number of other security challenges as well, including Abu Sayyaf militants from the Philippines.