The Schools of the Taliban
In areas under Taliban control, schools are being reshaped to fit the Taliban agenda.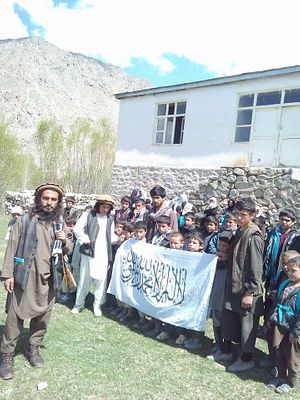 Two years ago, the Taliban paid a visit to 13-year-old Jamal's* school in the northern province of Kunduz in Afghanistan. His village had been taken over by the insurgents. "They spoke with the school's principal and a few teachers about the curriculum," Jamal recounts. As a result, three subjects – English, sports, and social studies – were dropped and replaced with religious studies. Today, the village remains under Taliban control and Jamal only rarely goes to school.
The city of Kunduz, capital of the province of the same name, came under heavy assault from the Taliban on October 3, only a year after it had been briefly captured by the group. Although the Afghan security forces managed to regain control of the city, the situation outside the provincial capital has been worrying for years, with some areas completely under Taliban control.
The security situation in all of Afghanistan has been growing more dire in recent years, and the Taliban now control the highest amount of districts in the country since 2001. In these areas, the Taliban have long been implementing their own interpretation of Sharia law, but lately reports have surfaced that the group is also making changes in the school curriculum.
During Taliban rule in 1990s, secular education was banned and replaced by religious education. Girls were not allowed to go to school. Today, much of the same can be witnessed in schools that are under Taliban control.
The teachers, students, and residents who were interviewed in these areas in Kunduz confirmed that the Taliban have replaced English, culture, history, and physical education classes with Islamic subjects. Boys are also not allowed to wear Western clothes.
Hamidullah, 29, from Chardara district, says that the Taliban do not allow teachers to use books that have pictures of humans or animals in them. "They only allow pictures of inanimate things," he says. Abdullah*, a teacher from Chardara district, says the Taliban have also removed pages from schoolbooks that have a picture of the Afghan flag.
Zabiullah Mujahid, spokesperson for the Taliban, claims that overall there have been no significant changes made into the curriculum, aside from two topics:
"There are two subjects taught in Kabul government schools that we don't accept. One is culture – musical instruments are taught and it is shown as if this is the true culture of Afghan people. But our culture is Islamic and these things that are forbidden in Islam are not part of our culture, and our people are ashamed of using them. The second subject is terrorism. Our fighters are labeled as terrorists, which is a definition favored by Americans. The subject defames our jihad and draws a horrific picture of our fighters for students… We have the right to stop those things that bring confusion to our children's minds and defame Islamic values."
No one was willing to discuss the issue of jihad in the school curriculum because of security concerns.
Girls' Education
In some areas, the Taliban have barred girls from going to school. In other districts, girls only have access to education up to a certain age. In Dasht-e-Archi district of Kunduz, for example, girls above the age of eight are not allowed to study.
Maryam*, 17, is from Kunduz and had to drop out of school because of the Taliban. Instead of completing her studies, she married and is now a housewife. "What is the importance of school and education in this district? A few years ago we were going to school and thought we had a bright future. Those dreams failed and died forever," she said.
"[The Taliban] do not let us continue our education. Our future is not known. Maybe we will remain illiterate," Rohina*, 14, from Kunduz said. She was forced to drop out after sixth grade.
The Taliban, however, claim they are not against educating girls. "We have schools and high schools for girls in areas under our control, but the difference is that we teach girls and boys in separate classes. In some areas where we have enough budget we have separate schools for them," says Mujahid. "For older girls we don't have any schools or teachers. But we have plans that if any time the situation allowed for enrolling older girls in our schools, we would hire them female teachers."
Teachers and residents in areas under Taliban control say that the government is aware of the situation but there is nothing that can be done. "Even if girls want to study, we cannot do anything for them here. They have to go to the city. The government cannot do anything about this situation," Abdullah, a teacher in Chardara, said.
Government Denials
Karim Wahdat, a deputy of the education department of Kunduz, denies that the Taliban is making changes in the school curriculum in his province. He answered his phone from the Kunduz airport, where he had briefly fled the Taliban's assault. "I have heard that it is happening in other provinces, but not in Kunduz. They have only rearranged the periods so that Islamic Studies would always come first," Wahdat said.
Meanwhile, a high-ranking employee of the Kunduz education department – who requested not to be named – confirmed that the Taliban are enforcing their own curriculum, even in Kunduz. "It is 100 percent correct that they are running a number of schools in places under their control," the employee said. "Whether local people want it or not, they are imposing their own curriculum in those places. We witnessed this issue for a long time and even today we can't deny the existence of such schools under their control."
The spokesperson of the Ministry of Education in Kabul, Kabir Haqmal, claimed the ministry has not received any information from the provinces regarding this. He also evaded questions on whether the ministry is looking into the matter.
Kunduz is indeed not the only province where the Taliban have started enforcing their own curriculum. According to residents interviewed in other provinces that have areas under Taliban control, such as Paktia and Nangarhar in eastern Afghanistan, this phenomenon is much more widely spread.
Taliban spokesperson Mujahid said that the Taliban "have schools and [are] actively implementing our curriculum" in all areas that are under their control.
Ahmet Yar, an Afghan journalist with close ties to the Taliban, confirms this. "Beside Kunduz, [the] Taliban have an educational system and schools in Nangarhar and Paktia, especially in Zurmat district of Paktia, where children are encouraged to read by Taliban authorities."
Ahmad Naveed Frotan, spokesperson for the governor of Badakhshan, a province in northern Afghanistan that famously never fell to the Taliban in the 1990s, also confirmed that this is taking place in his province: "They [the Taliban] control schools and the teachers."
The Taliban's Teachers
According to Frotan, in some areas of Badakhshan, such as Raghistan district, "schools are closely supervised by the Taliban and the teachers are not allowed to teach or provoke the students… against the group. The teachers are under the influence of the Taliban."
Perhaps the most worrying aspect is the presence of Taliban fighters in schools.
According to Yar, Taliban fighters sometimes double as teachers. "[The] majority of the teachers in Taliban schools are madrassa graduates along with Taliban fighters. But there are also a significant number of educated Afghans who are paid monthly by Taliban authorities," says Yar.
Mujahid, however, denies this: "The teachers are not Taliban fighters, but local teachers that teach in other schools and we have also hired them to teach students."
In Paktia's Batoor Qala Surkh district, which has been under Taliban control for the past three years according to residents, the Taliban fighters themselves do not teach in the schools, but they regularly come to monitor what is being taught to the children, a headmaster who requested not to be named said.
A number of propaganda photos distributed by the Taliban include fighters holding assault rifles and standing beside young school children. This seems to support the fact that even if the Taliban fighters do not themselves teach, they at least pay regular visits to schools.
As more and more districts fall to the Taliban there will be an increasing number of children in Afghanistan who grow up studying the Taliban curriculum. What the long term impacts of this will be remains to be seen. Worryingly, the government seems unwilling to recognize the problem.
*Names have been changed to protect identities.
Additional reporting by Humayoon Babur.
Maija Liuhto is a freelance journalist based in Kabul, Afghanistan. She has previously written for Al Jazeera English, the Christian Science Monitor and The Diplomat.