What Will a Kuril Islands Deal Between Russia and Japan Take?
Japan looks to incentivize Russian interest in a deal over the Kurils by laying out several economic initiatives.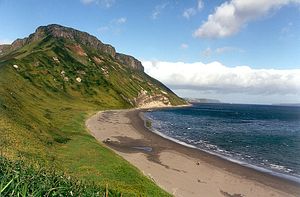 For those interested in the Kuril Islands dispute between Russia and Japan, the December 2016 Yamaguchi summit between Japanese Prime Minister Shinzo Abe and Russian President Vladimir Putin is worth closely watching. As I discussed a few weeks ago, the two sides are set to come into Yamaguchi with potentially game-changing proposals on the table.
Though there remains reason for pessimism that Abe and Putin will enter the new year with a road map to resolve their long-standing territorial dispute to the satisfaction of both countries, new details continue to emerge, suggesting that even if the Yamaguchi meeting yields little on the Kurils, it will nonetheless mark an important notch in the Russia-Japan bilateral, carrying forward the positive momentum that was unbottled at the Sochi summit between the two leaders in May 2016.
The Financial Times reports that Japan and Russia are "discussing almost 100 economic co-operation projecst as they prepare to negotiate over four disputed islands" at the Yamaguchi summit. Hiroshige Seko, Japan's minister for economy, trade and industry — who was incidentally given special charge of Tokyo's portfolio on economic cooperation with Russia in September — tells the FT that both sides are putting forward ambitious ideas for economic cooperation.
"The Japan-Russia economic relationship so far has been centered on energy," Seko told the FT. "But there are areas where the Russian people have needs such as hospitals or urban development, promoting industry in the Far East, or co-operation in advanced technology. We want a menu of projects that makes Russians feel a real difference in their lives."
For Tokyo, extending incentives in the form of multiple economic initiatives will be an important way to ensure that Moscow sustains interest in talks over the Kuril Islands. Indeed, Abe's participation in the Eastern Economic Forum in Vladivostok this September already offered hints of how Japan sees a role for economic "carrots" in its diplomacy with Russia.
Ultimately, Abe wants and needs a deal over the Kuril Islands more than Putin does. Knowing that Russia's post-2014 isolation from the West following its annexation of Crimea and subsequent support for separatists in Ukraine has left it with limited economic opportunity, Japan is seeking to offer Russia some options. (Tokyo, nevertheless, continues to be part of G7 sanctions on Russia — a sore spot that derailed previous momentum between the two countries on the Kuril Islands.)
Despite Japanese reports of enthusiasm, there are mixed signals from Russia. Last week, one Russian lawmaker visiting Japan said there was no serious prospect of a territorial handover. Putin, however, had told Bloomberg News earlier this year that a compromise "here neither of the parties would feel defeated or a loser" was the objective.