China Will Receive 4 Su-35 Fighter Jets From Russia
The four fighter jets will be transferred to China by December 25, according to a Russian defense industry official.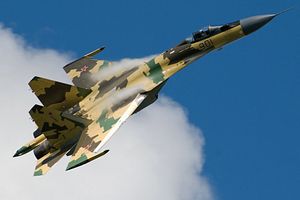 The People's Liberation Army Air Force (PLAAF) will receive its first batch of four Russian-made Sukhoi Su-35 multirole fighter jets earlier than expected, according to a Russian defense industry source, TASS news agency reports on December 14. "The first four Sukhoi-35 are to fly over to China by December 25," according to the unnamed source.
The first deliveries were initially scheduled for 2017. It is unclear why the delivery schedule has now been sped up. There is also no official statement from the Chinese side confirming the transfer. Furthermore, as of November last month, The National Interest reported that no contract had been formally signed between China and Russia over the Su-35 aircraft.
"First of all, let's be accurate. We have not sold yet," retired Lt. Gen. Evgeny Buzhinsky (Ret.), chairman of the executive board of the Moscow-based PIR Center, said on November 15. "We are in the process of very tough and very difficult negotiations on these issues."
The Su-35 (NATO reporting name: Flanker-E) is a fourth++ generation, twin-engine, multirole fighter aircraft powered by two AL-117S turbofan engines. As I reported elsewhere, China first expressed interest in the Su-35 in 2008 with official negotiations beginning in 2011. A preliminary agreement was reached in 2012 with a sales contract for 24 aircraft reportedly signed in November 2015 (See: "China to Receive 4 Su-35 Fighter Jets From Russia in 2016"). However, Buzhinsky noted: "We signed the protection of intellectual property agreement, which was a precondition for the supply of Su-35."
As I noted previously:
One of the reasons for China's interest in the Su-35 is its AL-117S turbofan engine. Russia has repeatedly refused to sell the engine as a stand-alone product, which left the PLAAF with little choice but to acquire the entire aircraft. The Chinese military aviation industry is still struggling with designing and building an engine for its new fifth-generation stealth fighter prototype, the Chengdu J-20.
Nevertheless, Buzhinsky was not worried about Chinese engineers reverse engineering the turbofan engine: "They cannot produce engines. We agreed to supply engines for the Su-35, but fortunately—my technical colleagues told me—that it is practically impossible to copy that engine because it is practically impossible just to reach the heart of the engine without breaking it completely."
In August 2016, China made public that it set up a new state-owned aircraft engine maker to accelerate the development of new high-performance turbofan engines. China's aviation industry is currently working on the WS-13 Taishan turbofan, a derivative of the Russian Klimov RD-33 turbofan, among other things.
Chinese-made military turbofan engines such as the WS-10 are under-performing, according to various reports. Even the PLAAF's two fifth-generation fighter jet prototypes–the Chengdu J-20 and Shenyang J-31–are reportedly equipped with older Russian-made jet engines–the Saturn AL-31 and the Klimov RD-93, first introduced in the early 1980s for the Sukhoi Su-27.
Whenever a final contract will be inked, according to Buzhinsky, China will not receive Russia's most advanced Su-35 model: "We have export version and a version for our own use. The Chinese are very good at copying all kinds of stuff."