Immigration, Housing Key Issues as New Zealand Enters Election Year
A look at the debates likely to shape New Zealand's upcoming elections.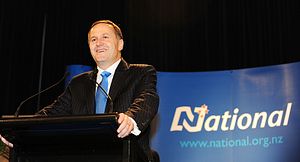 Amid the populist surge creating political instability in the United States and across Europe, 2016 has been a quiet year for New Zealand. A referendum proposing to change the country's flag was rejected by voters with little enthusiasm in March, while local elections in October offered no stunning upsets. However, there is no guarantee that 2017 will be equally placid, as the island nation moves toward a general election where battle lines are being drawn along the issues of immigration, housing, and the nature of New Zealand's expanding economic ties with Asia.
The center-right National Party, which has held power since 2008, looks set to win a fourth term under the leadership of Prime Minister John Key. The latest opinion polling has National at 49.5 percent, while the opposition Labor and Green Parties – who are formally cooperating with intent to change the government – together reach 37.5 percent. However, the centrist-nationalist New Zealand First Party continues to find support within 8-10 percent, and the poll has yet to incorporate the newly founded Opportunities Party, led by economist and philanthropist Gareth Morgan.
Immigration as a political issue in New Zealand has tended to invert the traditional left-right positioning on the matter. National, concerned primarily with free trade and economic liberalization, has favored an immigration policy that brings in large numbers of working migrants, both as residents and on temporary work visas. Under these policies, a record 200,000 temporary work visas were issued, with similarly large increases in the percentage of new residents.
The Labor Party has strongly criticized the National Party's immigration policy, citing concerns about implications on labor market prospects for local New Zealanders and calling for cuts on the number of visas issued. The Green Party, while originally distancing themselves from Labor's immigration reduction policies, have since called for a cap on net migration set at 1 percent of the population. With these stances, the two main opposition parties have moved their immigration policies more in line with those of New Zealand First, which has long called for cutting immigration. The support of New Zealand First would likely be critical for Labor's ability to form a government in the next Parliament.
Housing is another key issue coming into the 2017 election, overlapping significantly with the major parties' clashes over immigration. The National Party's housing policy has come under intense criticism from Labor in the wake of the Auckland Housing Crisis, the name given to the widespread shortage of affordable housing in the nation's largest city. The Labor Party has primarily laid the blame on high levels of foreign land ownership in the country, before proposing a bill that would restrict foreign investment in residential property. Labor also faced accusations of racism in 2015, when in attempting to prove foreign speculation was the cause of rising prices the party's housing spokesperson, Phil Twyford, produced sales data from a real estate company, pointing out a large percentage of purchases were being made by people with "Chinese names."
Trade is another significant issue that may play a major role in the 2017 election. The National Party has been extremely committed to free trade, signing the AANZFTA deal with ASEAN, as well as FTAs with South Korea, Hong Kong, and other Asian nations. However, the largest impact of trade in New Zealand politics has come from the Trans-Pacific Partnership, now effectively shuttered following Donald Trump's upset win in the U.S. presidential election. The agreement – opposed by Labor, the Greens, and New Zealand First, and controversial among ordinary New Zealanders – was enthusiastically supported by National. Considering the protectionist leanings of the incoming Trump Administration, National would likely shift focus to negotiating further bilateral trade deals in the Asia-Pacific, such as with Japan and Chile, both previously party to the TPP.
The larger question is what form of trade policy would be pursued by a Labor-led government. Labor, despite opposition to the TPP, has maintained a pro-free trade footing, evidenced by a statement from party leader Andrew Little that cites individual concerns with aspects of the TPP while emphasizing general support for free trade, such as the FTA with China negotiated by the previous Labor government.
However, it is difficult to predict the extent to which Labor's stance will be tempered by the presence of the Green Party or New Zealand First in a future Labor-led government. The Green Party's trade positioning is more likely to emphasize worker's rights and sustainability in determining whether to support specific trade arrangements, while New Zealand First's populist tendencies have made the party's long-standing leader, Winston Peters, likely to provide vocal opposition to further economic integration in a time where ordinary voters are beginning to turn against globalization itself.
Taran Molloy is a writer, commentator, and radio host based in Wellington, New Zealand. He co-hosts the weekly current affairs program Capital Hardtalk on a local radio station, where he focuses on New Zealand and global politics. He also writes commentary and analysis pieces for Capital Hardtalk and other websites. He is currently studying Law and International Relations at Victoria University of Wellington.