Indian Navy Rules out Tejas Fighter Jet on New Aircraft Carrier
India's Light Combat Aircraft is not meeting the navy's requirements, according to a senior naval officer.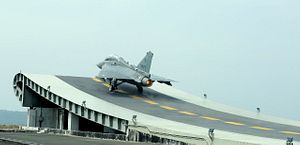 The Indian Navy will not deploy a naval version of the Hindustan Aeronautics Limited (HAL) Light Combat Aircraft Tejas aboard its new class of aircraft carriers, Admiral Sunil Lanba, chief of naval staff, told local media on December 3. The admiral cited the aircraft's weight as one of the reasons and said that the Indian Navy is looking at alternative models.
"As far as the carrier-based aircraft is concerned, we need it in a time line of the induction of the aircraft carrier. We have the MiG 29K, which operates from Vikramaditya and will operate from IAC [indigenous aircraft carrier] Vikrant," the admiral said. (INS Vikrant is India's first indigenously built aircraft carrier. INS Vikramaditya is a modified Kiev-class aircraft entering service with the Indian Navy in 2013.)
"We were also hoping to operate the LCA (Light Combat Aircraft-Tejas) from these two aircraft carriers," the admiral continued. "Unfortunately, the LCA is not being able to meet the carrier's required capability. That is why we need an alternative aircraft to operate from these two aircraft carriers," he added.
"If you look around the world, there are not too many options available and we need this carrier-capable aircraft sooner than later. So, I am looking at next five-six years."
However, the admiral also noted that he is continuing to encourage India's Aeronautical Development Agency (ADA) and HAL to work on the naval version of the LCA.  This may be due to the fact that the 65,000-ton supercarrier INS Vishal, the second ship of the Vikrant-class, will likely launch combat aircraft using a catapult assisted take-off but arrested recovery (CATOBAR) aircraft launch system, incorporating U.S. defense contractor's General Atomics' new electromagnetic aircraft launch system (EMALS) technology (See: "Confirmed: India's Next Aircraft Carrier Will Be Nuclear").
In comparison, the Vikramaditya and Vikrant feature so-called ski-jump assisted Short Take-Off But Arrested Recovery (STOBAR) launch systems for launching fighter jets.  This STOBAR system imposes limits on the operational range and armament of aircraft operating from the carrier given that ski-jump takeoff and arrested carrier landings necessitate a high thrust-to-weight ratio for successful take-offs and can only be conducted with lightweight aircraft.
Thus, even if the LCA's weight will not be reduced, it could still be deployed aboard the INS Vishal. As I reported elsewhere (See: "Naval Version of India's Light Combat Aircraft Successfully Completes Flight Test"), two naval prototypes of the LCA have successfully conducted a number of test flights from a Shore Based Test Facility — a full-scale model of an aircraft carrier deck — in Goa over the last few months. However, the prototypes allegedly could not replicate the successful flights tests while fully armed and fueled.