Is Indonesia's Vaunted Secularism Under Threat?
Do protests against Jakarta's Chinese-Christian governor signal a turn toward Islam's far right?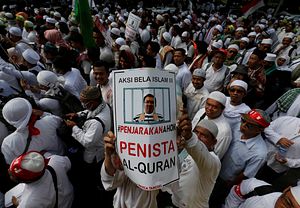 It seems improbable that a little more than two years after the election to the presidency of Joko Widodo, a person more famous for his love of death metal than his religion, and the ascendance of a popular, Chinese-Christian to the governorship of the country's largest city, that Indonesia, a secular, Muslim-majority democracy, would see such a rapid rise in right-wing Islamic political activism. But that's just what's happening, as an unprecedented, and unexpected movement against Jakarta's governor for allegedly insulting the Holy Quran threatens to reshape the country's longstanding secularism.
One the surface, the large-scale protests and the mass prayer seem like the latest in a series of signs that the country is seeing a rapid rise in conservative Islamic identity. The reality, as is often the case in Indonesia, is far more complicated and is closely connected to the unique personality at the center of the turmoil: Jakarta Governor Basuki Tjahaja Purnama, universally known as Ahok.
An Outsider in Power
It is hard to imagine a less likely Indonesian politician than Ahok. He comes from an ethnic community, Chinese-Indonesian, whose members have regularly faced persecution and, less than two decades ago, were the victims of mass violence in the city where Ahok is now governor. Factor in that he's a Christian in the world's most populous Muslim country, and is from Sumatra and not Java, home to nearly all of the country's top politicians and generals, including the last two presidents, and he's historically odd.
"For me, Mr. Basuki is phenomenal… he is someone who embodied all the 'wrong' factors to become a leader in Indonesia," said Yosef Djakababa, director of the Center for Southeast Asian Studies in Jakarta.
Ahok's style is entirely unlike any other politician in Indonesia, whether in the present or the tumultuous past. He's viewed as a pragmatic, no-nonsense, action-taker, known for his curt comments to the media and his disdain for wasting time. For a country that has suffered through decades of politicians spouting lofty ideals but creating little progress for average Indonesians, Ahok's style was a refreshing change. He was incredibly popular in Jakarta, leading by wide margins in nearly every poll, and was even seen as a potential presidential candidate, though many feared his freewheeling style would eventually hurt him.
On September 27, that's exactly what happened, but at a scale few imagined.
The Rise of the Islamist Right?
Protests by the far-right Islamic groups, such as the Islamic Defenders Front (FPI) are not new in Jakarta. They have held small rallies and events ever since Ahok became governor, and were also responsible for spreading rumors questioning Jokowi's religion during his 2014 presidential race, which many believe is why his opponent, Prabowo Subianto, ended up finishing so close to him.
What is surprising is how quickly this movement has grown this past year. The umbrella group of which the FPI is the most prominent member, the National Movement to Guard the MUI Fatwa, attracted more than 500,000 people to its December 2 mass prayer, the largest religious gathering in Indonesian history.
"This anti-Ahok demonstration comes as a surprise to me, given the fact that Ahok's remarks… did not bring the leaderships of the mainstream or largest Islamic organizations, Nahdlatul Ulama (NU) and Muhammadiyah, to initiate the demonstrations," said Muhamad Ali, an associate professor at the University of California-Riverside and an expert on Islamic politics in Indonesia.
During a campaign rally, Ahok criticized the use of a verse of the Quran to campaign against him. His opponents immediately accused him of disrespecting Islam's holy book, though Ahok insisted that he had merely been criticizing some Islamic groups for citing the Quran out of context, not decrying the verse itself. The Islamic right gained their first major political victory by forcing the sentencing of Ahok for blasphemy even though NU and the Grand Imam of Istiqlal Mosque – the largest mosque in Southeast Asia – both publicly stated that what Ahok said was not blasphemy. It didn't matter – the National Police listened to the FPI, and not the NU, and formally charged Ahok with blasphemy.
"I think it is more a sign of successful political mobilization by certain radical Islamists, especially FPI's Habib Rizieq," said R. William Liddle, professor emeritus of political science at Ohio State University and a specialist on Indonesian politics. "That's extraordinary, because Habib Rizieq has been seen for decades as a marginal, fringe leader… it's astounding that he now appears to be taken as seriously as… a spokesperson for Islam." So much so that, in a move that further legitimized the FPI as a national player, President Jokowi himself attended the mass prayer.
So who are the protesters, and what do they represent? Their make-up may give hint to where this groundswell is coming from. They encompassed not only Jakartans, but Indonesians from across the archipelago. And evidence shows that it is in the countryside where Islam is becoming a more powerful force. With more and more mosques and religious institutions receiving funding from conservative regimes in the Middle East, some have argued that Islam is changing from its fluid, Sufi-influenced origins to something more akin to what exists in the Middle East. Sharia laws are now in place in more and more municipalities as conservative interpretations rise.
"It's certainly possible that Habib Rizieq's ability to capitalize on Ahok's ineptness is rooted in an Indonesian Muslim society that is becoming increasingly conservative and in agreement with the views of FPI," said Liddle.
At the same time, the national character of the movement may show that it just a better organized minority. The figure 500,000 sounds impressive, but not against Indonesia's 200+ million Muslims, or even Jakarta's eight million residents.
"The protests represent a significant and growing portion of Indonesia's Muslim populace, but do not represent the majority of the populace," said Ali. "The allegation of defamation of Islam… seems to be the unifying element in the rhetoric before, during, and after the protests, but the participants did not seem to pay any attention to the details and specifics of what Ahok himself really said or meant."
The Bigger Political Picture
The timing of the movement matters, as this is taking place just a few months before Jakartans go to the polls. Control of Jakarta may be second only to the presidency, as many now see this position as a stepping stone to greater power, and it has become the premier election race in the country at this time. Right now, much of Indonesia's media spotlight is on Jakarta. This is why so many outsiders are getting involved in what would seem to be chiefly a citywide race.
Complicating things is that one of Ahok's competitors for the Jakarta governorship is Agus Harimurti Yudhoyono, the son of former President Susilo Bambang Yudhoyono, who, even more so than current President Jokowi, is closely connected to the power-brokers in Indonesia's capital.
"Because SBY's son is a candidate for governor, that's enough of a motive for SBY to undermine Ahok's support," said Liddle. "I haven't seen any actual evidence of that, however."
Yudhoyono, for his part, has denied suggestions that he has supported the demonstrations.
One thing is clear — the visibility of this campaign, and the movement against Ahok shows what a symbol he has become for many, both inside and outside of Indonesia. If he is either jailed or loses his seat due to what many see as a statement taken out of context, it will be a double-hit, both for political reformers, and Indonesia's substantial minority population.
"If Ahok ends up in jail, or loses his reelection bid… this means that Indonesian democracy faces a greater challenge in addressing the difficult balance between specifically religious issues, and broad public concerns such as social injustice, education, housing, and health," said Ali.
But it does not necessarily mean that Islam is ascendent, though it will likely embolden the movement's right to push the country farther away from secularism, and more toward an outwardly Islamic identity. The goal of the FPI is not just to remove Ahok, but to change the Constitution to oblige Muslims to follow Islamic law, make it illegal for minorities to lead in Muslim-majority areas, and expand Sharia law across the country.
Of course, that's the FPI, and not the 500,000 who rallied in Jakarta. They were calling for Ahok's removal, not an Islamic Indonesia. Ahok is a rallying symbol for the movement, but assuming that all of those who want him removed for insulting Islam also want Indonesia to no longer be so secular is a big stretch.
And it may not be enough. The FPI's best bet is to hope that Indonesia's atrocious blasphemy record – only one person in its history who has been charged has had those charges dropped – stands, forcing Ahok to give up his seat. Because if it goes to Jakarta voters, Ahok's record – expanding healthcare, improving public transit, and tackling corruption – may matter more than his so-called "insult of Islam." His poll numbers, which fell rapidly in the immediate aftermath of the video being released, and the large protests, are now recovering. If Ahok survives, he may emerge more powerful than ever – exactly what the FPI and its allies don't want.
Nithin Coca is a freelance writer and journalist who focuses on cultural, economic, and environmental issues in developing countries. Follow him on Twitter @excinit.