Japan Approves Modest Defense Budget Hike
The defense budget approved by Japan's cabinet will see a moderate 1.4 percent increase from the previous year.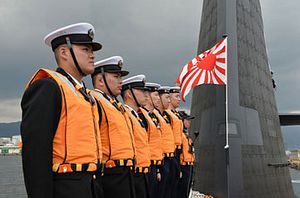 The cabinet of Japanese Prime Minister Shinzo Abe approved a modest increase in defense spending for the next fiscal year starting April 1, 2017, The Japan Times reports.  It is the fifth consecutive time that the Japan's defense budget has increased since Shinzo Abe has taken office in 2012. The budget is expected to be approved by the National Diet early next year.
Total defense expenditure for Fiscal Year 2017 will be ¥5.13 trillion ($43.5 billion), a 1.4 percent nominal increase from the previous year's ¥5.05 trillion ($41.4 billion).  The defense budget represents five percent of overall government expenditure and less than one percent of Japan's gross domestic product.
The slight increase is defense expenditure is largely driven by China's growing maritime assertiveness in the East China Sea and North Korea's ballistic missile program. "The security environment surrounding Japan is becoming ever more severe," Japanese Defense Minister Tomomi Inada said in a press conference on December 20.
There are few surprises when it comes to new military hardware acquisitions.  The fiscal year 2017 defense budget request includes funds for six additional F-35A Lightning II Joint Strike Fighters (the Japan Air Self Defense Force just took delivery of the first F-35A), four Bell Boeing V-22 Osprey tilt-rotor aircraft (a hybrid between a conventional helicopter and turboprop plane), 11 AAV7 amphibious assault vehicles, and an additional Soryu-class diesel-electric attack submarine, among other things. Once funds for an item have been allocated in the annual military budget it takes two to five years until it reaches the Japan Self Defense Force (for a full list see: "Overview of FY2017 Budget Request").
Interestingly, the Fiscal Year 2017 defense budget request increases defense research from ¥600 million to ¥11 billion. Major new research and development programs include a new ship-to-air missile for destroyers, a new air-to-ship missile, and a land-to-ship missile. As I explained previously, the new land-to-ship missile will have an approximate range of 300 kilometers (186 miles), use solid fuel, and is slated to be deployed by 2023 (See: "Deterring China: Japan to Develop New Anti-Ship Missile For Defense of Senkakus").
Furthermore, the Japanese Ministry of Defense (MoD) will invest in cyber resilience technology research and conduct research on autonomous surveillance technology and a sensor system for unmanned underwater vehicles, as well as research on an "innovative electromagnetic acceleration system intended to extend the range and increase the destructive power of shells by increasing the shell speed to a level that would be impossible to achieve for conventional artillery," among a host of other things.
The ultimate goal of the Japanese government is to urn the Japanese military into a more agile more rapidly deployable force, as I reported in December 2015 (See: "Japan Approves Record Defense Budget"):
The Ministry of Defense's 10-year National Program Guidelines – subdivided into two five-year Mid-Term Defense Programs – has allocated 23.97 trillion yen ($199.5 billion) within five years (2014-2018) toward the creation of more amphibious warfare capabilities and a lighter "Dynamic Joint Defense Force."
The Japanese MoD plans to convert about half—seven out of the current 15 Ground Self Defense Force (GSDF) brigades and divisions—into lighter and more mobile units. The principal reason behind this shift in force structure is to speed up the deployment of combat units to the East China Sea in the event of a military crisis. (A Japanese division usually consists of around 8,000 troops, whereas a brigade fields up to 4,000.)
As I reported elsewhere, Japan is planning to stand up its first  so-called Amphibious Rapid Deployment Brigade next spring. The unit is scheduled to become fully operational by 2018 and will be composed of 3,000 Japanese marines capable of conducting amphibious warfare operations. "The new brigade's principal mission will be to defend the 6,000 islands and islets of the Ryukyu Islands chain, which stretches southwest from Kyushu to Taiwan," I explained.
The strategic rationale in the event of conflict is to contain the Chinese military in the East China Sea in the event of war (See: "This Is Japan's Best Strategy to Defeat China at Sea"):
An [anti-access/area denial] A2/AD operational concept with Japanese characteristics would take into account Japan's role as a gatekeeper to the open waters of the Pacific and would center around exploiting Japan's maritime geographical advantage over China by skillfully deploying the JMSDF along the Ryukyu Islands chain, bottling up the PLAN in the East China Sea until the U.S. Navy and other allied navies can deploy in full-strength.
However, much more likely than open conflict will be the continuous occurrence of so-called gray zone coercion incidents involving the China Coast Guard (CCG) and Chinese maritime militia vessels. These incidents usually involve Chinese aircraft and ships harassing Japanese maritime assets in the East China Sea. All actions remain under the threshold of open aggression in order to avoid open military conflict. These gray zone confrontations primarily involve the coast guards of both countries.
As a result, Japan has separately approved an increase of the Japan Coast Guard (JCG) budget from ¥187.7 billion to ¥210 ($1.8 billion) and add five large surveillance ships and three research vessels to its fleet.The JCG wants to field a fleet of 142 patrol vessels by the end of 2020. 27 percent of the JCG budget will be dedicated to stepping up patrols and maritime surveillance capabilities around the disputed Senkaku/Diaoyu Islands – an island chain administered by Japan in the East China Sea.
The increase in the JCG budget illustrates Japan's growing concern over China's activities in the East China Sea. A new 14-ship JCG fleet will be tasked with protecting Senkaku/Diaoyu Islands from foreign incursions. As I reported elsewhere, funding for the JCG has remained steady for the past ten years, although the JCG did manage to expand and modernize its fleet of ships and aircraft by internally redistributed resources to make more funds. The importance of the JCG budget hike therefore and what signal it sends to China should not be underestimated.
On December 22, Japan also adopted new guidelines that now allows Japan Maritime Self Defense Force warships to protect U.S. Navy vessels–another major step in Japan becoming a 'normal' military power. Nevertheless, as I noted earlier in the week, Japan still has a long way to go to become comfortable with the application of military force and we should not expect a dramatic shift in Japan's defense posture in the near future.