Japan Receives 1st F-35 Joint Strike Fighter
The aircraft was officially handed over to the Japan Air Self Defense Force on November 28.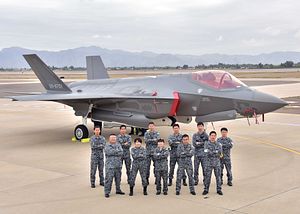 The first foreign military sales (FMS) F-35A Lightning II fifth-generation stealth fighter jet was handed over to the Japan Air Self Defense Force (JASDF) at Luke Air Force Base in Arizona on November 29, according to a U.S. Air Force press release.
The JASDF will use the aircraft for training at Luke Air Force Base.
"Today is a great day for the U.S. Air Force Reserve Command, Luke AFB, the 944th Fighter Wing, and the Japanese Air Self Defense Forces," said Colonel Kurt J. Gallegos, the commander of the 944 Fighter Wing. "We have a great team of Airmen who have worked hard to set up an outstanding training program and are ready to train our FMS counterparts."
The first JASDF F-35A pilots have already begun training on the aircraft this week.
"The arrival of Japan's first F-35A marks another important milestone in the steadfast relationship between our two nations, and the beginning of training for an elite cadre of JASDF fighter pilots and maintainers," a senior U.S. Air Force officer said. "We put an incredible amount of thought and effort into building the world's first F-35 Foreign Military Sales training program from the ground up. To see Japan's first jet on our flightline, surrounded by the men and women who have made this mission possible, is humbling."
The first batch of JASDF F-35A technicians is currently undergoing training in Florida.
Japan's first F-35A was rolled out on during a September 23 ceremony held at a Lockheed Martin production facility in Fort Worth, Texas (See: "Japan Air Self Defense Force Rolls Out 1st F-35A Stealth Fighter Jet").  The first four JASDF F-35A fighter jets will all be built in Fort Worth with the remaining 38 aircraft to be assembled at the Mitsubishi Heavy Industries Final Assembly and  Check-Out facility in Nagoya, Japan.
As I explained in September:
The maiden flight of the first Japanese F-35A took place in August. Japan is slated to receive a total of 42 F-35A combat aircraft through the U.S. Foreign Military Sales Program. Japan's Ministry of Defense selected the F-35A conventional takeoff and landing variant of the Lightning II as the JASDF next generation fighter aircraft in December 2011 following the F-X competitive bidding process.
Japan might decide to acquire additional F-35A fighter jets in the not too distant future. As I noted elsewhere, Japan is expected to award a contract for the procurement of up to 100 new fifth-generation air superiority fighter in the summer of 2018 (See: "Japan's Air Force to Receive 100 New Stealth Fighter Jets"). The defense deal is estimated to be worth over $40 billion.