THAAD Coming to South Korea in 8-10 Months: Top US Commander
The top U.S. commander in South Korea clarifies a timeline for the deployment of the first battery.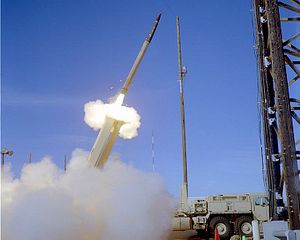 Speaking on Friday, General Vincent K. Brooks clarified the timeline for the deployment of the advanced Terminal High Altitude Area Defense (THAAD) system in South Korea. According to Brooks, the system will deploy in eight to ten months.
Earlier this summer, the United States and South Korea agreed to proceed with the deployment of THAAD after a series of North Korean provocations, including multiple sea- and land-based missile tests and, notably, a nuclear test in January. Since then, North Korea staged one more nuclear test in September.
The decision to deploy THAAD has been met with firm opposition from China, which sees the accompanying X-band AN/TPY-2 radar system as a threat to its national interests. Beijing fears that the United States could gather important data on Chinese missile testing and related activities with these systems.
"The U.S. deployment of THAAD on the Korean Peninsula seriously damages strategic balance in the region and seriously harms the strategic security interests of relevant regional countries, including China," Hua Chunying, a spokesperson for the Chinese foreign ministry, noted at a press conference.
Wang Yi, China's foreign minister, has said that Beijing believes that THAAD goes "far beyond the defense need of the Korean Peninsula."
THAAD had additionally stirred up strong reactions in South Korea, where some in the political opposition decried its deployment. Moreover, locals in Seongju county, the chosen location for the first battery, opposed THAAD as well. Ultimately, the alliance decided to place the battery on the Lotte Sky Hill Golf Course, located just outside Seongju county, in South Korea's North Gyeongsang Province.
Domestic politics may complicate the implementation of THAAD, particularly given the precarious position South Korean President Park Geun-hye finds herself in following revelations that she improperly subjected affairs of state to vetting by a personal confidant.
If the timeline laid out by Brooks is delayed, it could bump up against the run-up to South Korea's next presidential transition, which is slated to take place in February 2018. Elections are set for December 2017. Moreover, with the scandal engulfing Park far from settled, it remains unknown if she will be forced to resign, potentially jeopardizing the implementation of the missile defense system.
Despite the potential political complications associated with the finalization of THAAD's deployment in South Korea, U.S. Forces Korea and the South Korean military are eager to implement the system, which can intercept and destroy incoming North Korean ballistic projectiles in their terminal phase. (For more on THAAD's specifications and capabilities, see here.)