China-South Korea Relations: A Delicate Détente
The thaw in relations is not going to last long.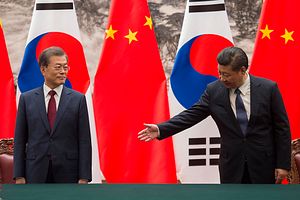 China-South Korea relations have shown some signs of improvement after late October 2017, when Beijing and Seoul announced their shared desire to put their relationship back on a positive track. But rather than achieving a lasting détente, the two countries have simply reached a new stage in an ongoing negotiation over Seoul's approach to regional security. The Republic of Korea (ROK) has rhetorically and symbolically addressed Beijing's main security concerns, and China's leadership has indicated a degree of flexibility on South Korea's hosting of a U.S. Terminal High Altitude Area Defense (THAAD) missile defense system. Yet key differences between the two countries' North Korea strategies have not been fully resolved. These unresolved issues will become exceedingly difficult for the two sides to manage if progress toward denuclearizing North Korea is not forthcoming in the near future.
Shared Interests, Incongruous Priorities
The North Korea nuclear issue lies at the heart of recent frictions between South Korea and China. Pyongyang's development of its nuclear weapons and ballistic missile capabilities led Seoul to pursue more aggressive security policies that upset China. For instance, Seoul's decision to enhance its military cooperation with Japan and other U.S. allies was a direct response to the growing North Korean nuclear threat — as was its decision to deploy THAAD. Moreover, the Moon administration has also for months sided with its U.S. ally in rejecting Beijing's so-called "freeze-for-freeze" proposal — a plan to de-escalate tensions on the Korean Peninsula and facilitate engagement with North Korea. The freeze-for-freeze scheme would require the United States and South Korea to halt their major joint military exercises; in return, North Korea would have to suspend testing of its nuclear weapons and ballistic missiles.
China, like the United States and South Korea, has an avowed interest in denuclearizing North Korea. However, over the past couple years, the Chinese leadership has appeared less concerned with that objective than with preventing South Korea from becoming more deeply embedded in a U.S. alliance system that Beijing worries might be bent on containing China, and which it fears could further destabilize the Korean Peninsula. In contrast, Seoul has given top priority to denuclearizing North Korea and bolstering South Korea's relationship with its ally at a time of great peril. China and South Korea are now trying to rebuild their relations while maintaining incongruous security priorities.
The Moon Administration Shows Deference to Beijing
On October 30, South Korean Foreign Minister Kang Kyung-wha told lawmakers that the government was not considering additional THAAD deployments and reiterated that the country would not join any U.S. missile defense network. Furthermore, Kang said that ongoing security cooperation among South Korea, Japan, and the United States would not develop into a trilateral military alliance.
Shortly thereafter, China's Ministry of Foreign Affairs issued a press release on the outcome of talks between Chinese and South Korean diplomats that declared the two countries' intention to normalize relations at an early date. The document also mentioned Seoul's apparent abnegations on additional THAAD deployments, joining U.S. missile defense networks, and becoming party to a tripartite military alliance with the United States and Japan — what have become known as Seoul's "three nos." South Korean and U.S. officials have tried to downplay the significance of the three nos. Chinese officials, on the other hand, have referred to them as "commitments" and have claimed that Beijing and Seoul reached a "consensus" after discussing "relevant issues," although neither side has specified what issues were discussed during the two sides' low-profile negotiations nor described what the supposed consensus entails.
Later, during a December meeting in Beijing, South Korean President Moon Jae-in and Chinese President Xi Jinping reached an agreement on "four principles to secure peace and stability on the Korean Peninsula," namely: 1) "war on the Korean Peninsula can never be tolerated"; 2) "the principle of denuclearizing the Korean Peninsula will be firmly maintained"; 3) "all issues, including the denuclearization of North Korea, will be peacefully resolved through dialogue and negotiations"; and 4) "improvement in inter-Korean relations will be ultimately helpful in resolving issues involving the Korean Peninsula."
In addition to issuing pronouncements pleasing to Beijing, the Moon administration has upset South Korea's once warming relations with Japan — at least in some ways. Last November, The Asahi Shimbun reported that Seoul had limited the scope of a 2016 military intelligence sharing agreement between South Korea and Japan, allowing only for the sharing of intelligence related to North Korea's nuclear and missile programs. That same month, reports surfaced that South Korea had rejected Japan's participation in a joint U.S.-ROK naval exercise and a U.S.-ROK-Australian trilateral naval drill near the Korean Peninsula.
The Moon administration has even shined a spotlight on sensitive historical issues between South Korea and Japan that the two countries had previously tried to put to rest. It is widely believed that Moon's state visit to China last December was purposefully timed to coincide with the 80th anniversary of the infamous Nanjing Massacre — a prime opportunity to play up historical bonds between Chinese and Koreans as former victims of Japanese imperialism. The South Korean leader made explicit reference to these Sino-Korean ties during his trip, telling an audience of South Koreans based in China that "[t]he two countries together faced hardship under imperialism and together pulled through difficult times fighting against the Japanese imperialist rule." Moon further unsettled South Korea-Japan relations earlier this winter by supporting a state-sponsored special task force's conclusion that a 2015 agreement between Seoul and Tokyo on the sensitive "comfort women" issue was unfair to the victims.
In yet another nod to Beijing, the Moon administration has delimited the extent to which it will assist the United States and its allies. It has decided not to join the U.S. and Japan in calling for a "free and open Indo-Pacific" — a strategic concept that Beijing (and even some in the Moon administration) fear may herald a new U.S.-led initiative aimed at containing China. Moon himself has tried to reassure Beijing that South Korea's security cooperation with other countries will not extend beyond countering the North Korea threat.
The Negotiation
The late China watcher Richard Solomon produced a monograph for The Rand Corporation in the mid-1980s entitled Chinese Political Negotiating Behavior. The paper, which draws upon the experiences of U.S. negotiators who helped to normalize relations between the United States and the People's Republic of China (PRC), is still essential reading for those trying to understand the unique aspects of Chinese officials' negotiating style. In it, Solomon sketches a basic four-step linear process of a Chinese political negotiation: opening moves, followed by a period of assessment, the end game, and the concluding implementation phase — where China and South Korea are today. Ominously, the implementation phase of a Chinese negotiation is often as contentious as any stage preceding an agreement (if not more so). It is the period when the beautiful circles of China's agreements either get squared or mangled.
The deal that was struck between Seoul and Beijing, as best as can be deciphered, is essentially this: South Korea reassured China about some of its major security concerns via the "three nos" and the four principles put forth by Moon and Xi last December. In so doing, South Korea effectively agreed to show greater deference to China on the handling of the North Korea nuclear issue. In return, China decided to ease some of its sanctions on South Korea, and switched from fighting for THAAD's immediate removal to pressing for its eventual removal. The problem with this deal is that, as currently conceived, it is not sustainable past a certain point. And that point may be quickly approaching.
South Korea's Short-term Compliance vs. Its Long-term Strategy
Presently, Seoul is de facto complying with Beijing's prescribed "freeze-for-freeze" and engagement solutions to the North Korea nuclear issue. At the Moon administration's request, South Korea and the U.S. agreed in January to postpone their annual Key Resolve and Foal Eagle joint military exercises until after the conclusion of the Olympic Games. Additionally, members of the South Korean government, including Moon, engaged with senior North Korean officials at Olympic events. Moon has even left open the possibility that he might accept a North Korean invitation to visit Kim Jong-un in Pyongyang after the games. These maneuvers have helped create a window of opportunity for North Korea to assume a cooperative posture and help de-escalate the conflict on the Korean Peninsula. But Seoul's recent compliance with Beijing's dictates should not be mistaken for a major shift in South Korea's strategic calculus.
While the Moon administration has gone to great lengths to show respect for China's security concerns, its long-term strategy for dealing with North Korea remains generally aligned with Washington's. Seoul has, along with the United States and its allies, continued to respond to North Korea's provocations with increased pressure beyond that applied by the U.N. Security Council. For instance, last September — just days after North Korea conducted its sixth nuclear test last — the Moon administration seemingly reversed its decision to significantly delay deployment of four THAAD launchers. Beijing, quite predictably, protested the move.
Although South Korea has limited the scope of its security cooperation with other countries, it continues to meet North Korean provocations with joint military exercises. Since Moon took office last May, ROK military forces have twice participated in trilateral missile-tracking drills with the United States and Japan. South Korea, which had been party to the drills four times before Moon's presidency, rejoined the exercises after North Korea lobbed missiles over Japan late last summer. The most recent drills were held in December, less than two weeks after North Korea's last missile test. That same month, South Korea conducted its largest-ever combined air force drills with the United States. The massive exercises included simulated bombing strikes on North Korea.
South Korea has also heeded the Trump administration's calls to assume more of the financial burden of countering the North Korea threat. The government's 2018 defense budget, passed by the National Assembly on December 6, is 7 percent higher than the 2017 budget — the largest percentage increase in nearly a decade.
In keeping with Washington's strategy of trying to convince North Korea that its nuclear weapons will actually make it less secure, Seoul has been looking at various ways to enhance its own military prowess. The Trump administration last September agreed to relax limitations on South Korea's ballistic missile capabilities imposed by a treaty between Washington and Seoul. South Korea is now reportedly in the process of developing powerful new missiles capable of destroying North Korea's underground military facilities and wartime command centers. Similarly, South Korean media reported last December that Seoul is considering purchasing several additional F-35 stealth fighter aircraft from the United States.
Perhaps the clearest sign that South Korea remains committed to the maximum pressure strategy that so rankles Beijing was the presence of its foreign minister at a multinational meeting in Vancouver in January. The meeting, which was attended by officials from 20 countries that fought alongside the South during the Korean War, was intended to discuss ways to ratchet up diplomatic and economic pressure on Pyongyang. Notably, China and Russia were excluded from the convocation. China condemned the meeting as illegitimate and reportedly summoned embassy officials from all of the invited countries to try to dissuade those countries from sending their foreign ministers to Vancouver. South Korea, quite tellingly, did not bend to Beijing's pressure.
When a Difficult Balance Becomes Impossible?
Assuming that within the next few weeks the United States and China do not harmonize their North Korea strategies and that significant progress is not made toward denuclearizing North Korea, Seoul will be forced to take actions that are likely to put its warming relations with Beijing back on ice.
Seoul has already indicated that there is a limit to how long it will effectively comply with Beijing's North Korea strategy. In late February, Defense Minister Song Young-moo told South Korean legislators that he and his American counterpart, Jim Mattis, will announce plans for the postponed U.S.-ROK joint military exercises by the end of March. Although the drills might be scheduled for a late date in order to give North Korea a little more time to consider cooperation, they will almost certainly go forward. At that point, South Korea will be openly breaking with the freeze-for-freeze plank of Beijing's North Korea strategy.
Even though Seoul will continue to take a more restrained approach to dealing with North Korea than Washington, it will also remain more risk-tolerant than Beijing. That means that South Korea will likely continue to support certain weapons deployments, sanctions, and other means of exerting pressure on North Korea that are bound to anger China.
As is characteristic of Chinese political negotiating behavior in the implementation phase, Beijing can be counted on to interpret its ambiguous agreement with Seoul as it sees fit. And it will start accusing Seoul of violating the agreement if and whenever Beijing feels Seoul's new maximum pressure tactics threaten its interests. For instance, China might interpret South Korea's future security cooperation with Japan and the United States as violating Seoul's "commitment" not to form a trilateral alliance with those countries. Likewise, China could interpret any actions that South Korea might take to increase military pressure on North Korea as violating the principle of relying on dialogue and negotiations to resolve all issues related to North Korea. The agreement that has heretofore brought China and South Korea closer together could very well become ammunition for a future spat.
Chinese officials are watching and waiting to see how far Seoul will stray from Beijing's strategy. That is precisely why China still has not lifted all of its sanctions on South Korea. Beijing wants to maintain a little leverage over its neighbor until either Seoul demonstrates beyond a shadow of a doubt that it has broken with the U.S.-led maximum pressure strategy, or the North Korea nuclear issue is put to rest.
Few Korea experts are optimistic that the recent lull in tensions on the Korean Peninsula will lead to North Korea relinquishing its nuclear weapons and ballistic missile programs. Nevertheless, it might be the last best chance for China, South Korea and the United States to, if not unify behind a common North Korea strategy, at least harmonize their respective strategies. Doing so can prevent South Korea from having to choose security and fidelity to its ally over good relations with its most powerful neighbor.
Kristian McGuire is an independent, Washington-based research analyst and associate editor of Taiwan Security Research. You can follow him on Twitter @KrisAMcGuire.