To the Victor Go the Spoils? Uzbekistan's New President and the Fate of $850 Million
Shavkat Mirziyoyev is the new Uzbek president, but experts caution against celebrating surface-level reforms too soon.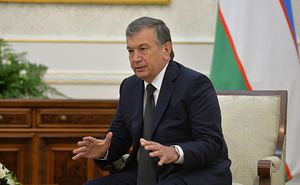 Shocking exactly no one, Shavkat Mirziyoyev came out on top in Uzbekistan's December 4 presidential contest. More than 17.9 million Uzbeks voted — an 87.3 percent turnout — and more than 15.9 million cast their ballots to make the interim president official. According to the Central Election Commission, Mirziyoyev took 88.61 percent of the vote. For those that are counting, that's 1.51 percent more than Islam Karimov when he was first elected president of Uzbekistan in 1991.
The numbers are largely irrelevant. As I commented last week, "Things will have taken a very wild turn if the victor emerging from the December 4 election is anyone but acting President Shavkat Mirziyoyev." And wild turns are exactly what Tashkent wants to avoid.
Mirziyoyev's victory is a carefully managed affair prefaced by positive-news generating diplomatic initiatives and entreaties to neighbors. But experts caution against optimism just yet.
Kristian Lasslett, senior lecturer in criminology at Ulster University with expertise on Uzbekistan, says that while Mirziyoyev may take steps toward some reforms — particularly in terms of market liberalization, good governance, and transparency — "how much of this will be mere window dressing is the key question to ask." Furthermore, "there may be some economic reforms, but they will be gradual, and carefully controlled, to ensure any changes benefit the ruling elite, rather than opening up rival pockets of power, or pathways for genuine democratic participation."
"I would expect under Mirziyoyev to see continuity, with minor amendments," Lasslett told The Diplomat.
Now that the presidency is settled, there's a $850 million elephant to deal with.
In February 2016, VimpelCom admitted to a conspiracy in which the Amsterdam-based company paid millions in bribes to an Uzbek government official (Gulnara Karimova, Karimov's daughter) for access to the country's telecommunications market. In a constellation of related cases, the U.S. Justice Department is seeking the forfeiture of $850 million, the proceeds of bribes, held in various bank accounts across Europe.
In describing corruption in Uzbekistan, Lasslett said the most serious forms of corruption in contemporary Uzbekistan "are organized by senior politicians, public officials, and well connected business figures, using the levers of state agencies to administer activities that could be reasonably called rackets." Unsurprisingly, many refer to Uzbekistan as a mafia state.
The election of Mirziyoyev does not fundamentally change this underlying dynamic. Mirziyoyev has served as Uzbekistan's prime minister since 2003 and has been intimately involved in the state's machinations.
For this reason, a group of Uzbek activists penned an open letter to a handful of governments urging them to not return the $850 million in frozen assets directly to the Uzbek government.
Sanjar Umarov, a former Uzbek political prisoner and reform activists, called on the incoming Trump administration in the United States to ensure that the money is "returned to the true victims of corruption — the people of Uzbekistan."
The letter, and Umarov's op-ed, point to a precedent: the Bota Fund established in 2007 with funds seized from Swiss bank accounts which had been paid to the Kazakh leadership for access to the oil boom. In an agreement between the United States, Switzerland, and Kazakhstan, the $84 million seized was used to establish an independent foundation — the first such foundation established as a result of a Foreign Corrupt Practices Act (FCPA) case in the United States — which supported programs aimed at helping impoverished children. The Kazakh government agreed to not interfere with the foundation.
The conditions in Uzbekistan, however, are not conducive to simply copying the Bota model immediately. The letter comments that "even by comparison with Kazakhstan, Uzbekistan presents an extremely unfavorable and difficult partner for implementing charitable projects like those carried out by the Bota Fund." There is a dearth of independent NGOs in the country, an abject lack of freedom of speech, press, and association, and a host of other difficulties that would impede the creation and operation of an independent organization.
With those circumstances in mind, the activists suggest directing the $850 million into a trust, to be unfrozen only when Tashkent is capable of accepting a Bota-like solution and willing to.
It's unclear how the Trump administration will view this deeply complex matter and whether it will be willing to make the new Uzbek regime wait. Analysts have largely called for caution in responding to surface-level reforms in Uzbekistan.
As Aleksei V. Malashenko, a scholar at the Carnegie Moscow Center, told the New York Times, "Nothing will change fundamentally, but there will be a thaw for the first six months… Mr. Mirziyoyev will want to get some initial popularity with the West… but given that security is the fundamental factor in the region, there will always be a pretext to tighten the screws."
Trump has not made direct statements on human rights, but in October Zeid Ra'ad al-Hussein, the UN high commissioner for human rights, said his "deeply unsettling and disturbing" views make him a danger to the world. Many have remarked on Trump's seeming sympathies for authoritarians and autocratic systems, making Umarov's plea that "the Trump administration… be steadfast in pushing for reform in Uzbekistan" a well-meant call but one that will likely fall on deaf ears.
Twenty minutes after his was declared the winner, Mirziyoyev received a congratulatory call from Moscow.
"Your convincing victory in the election reflects your great authority among your compatriots and the broad recognition of your services to resolve the social and economic development tasks your country faces today," Russian President Vladimir Putin told his new Uzbek counterpart.
We'll have to wait for Trump's first call with Mirziyoyev.