What's Behind the New Indonesia-Japan Maritime Forum?
A deeper look at the context and significance of a recently concluded initiative.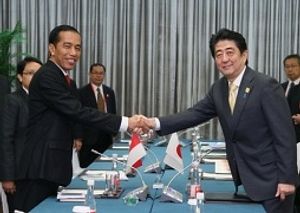 This week, Japan and Indonesia signed an agreement in Tokyo to establish a new bilateral maritime forum. The pact, signed by Indonesia's coordinating minister for Luhut Pandjaitan and Japanese Foreign Minister Fumio Kishida, is just the latest step both countries have taken to boost collaboration in the maritime realm. Given this, it is worth examining the context for it as well as its broader significance.
Japan and Indonesia are large, influential, and democratic maritime nations with a general interest in the maritime domain as well as a shared commitment to more specific principles like free and open seas. But recent developments as well as the priorities of both governments have also driven this greater maritime convergence. Broadly, President Joko "Jokowi" Widodo has sought to advance its idea of Indonesia as a global maritime fulcrum between the Pacific and Indian Oceans, with a five-pillared focus on maritime culture, infrastructure, diplomacy, defense, and resources (See: "The New U.S.-Indonesia Strategic Partnership"). Meanwhile, Prime Minister Shinzo Abe has sought to boost Japan's ties with Southeast Asian states such as Indonesia, including in the security realm amid shared concerns about China's maritime assertiveness in the East and South China Seas.
Although maritime cooperation is only one aspect of a complex relationship, it partly accounts for the greater investment in bilateral ties between both sides over the past two years. During Jokowi's inaugural visit to Japan back in March 2015, his first overseas trip outside of Southeast Asia, the joint statement by both sides began with a separate section devoted to maritime cooperation, an indicator of its priority alongside much broader political, economic, people-to-people and regional and international collaboration. A few other inroads have occurred in the Japan-Indonesia relationship since then, including the holding of the inaugural "2+2" meeting back in December 2015 where items like defense equipment transfers were discussed.
Indonesia has also been supporting Japan's efforts to engage on maritime issues with Southeast Asian states at the regional level. At the ASEAN-Japan Summit in the Lao capital of Vientiane in September, Jokowi cited the maritime realm as one of two priority sectors for further cooperation between the two sides. In November, Japanese Defense Minister Tomomi Inada unveiled Tokyo's first ever region-wide defense initiative for ASEAN, which includes maritime security as a key area (See: "Japan Reveals First ASEAN Defense Initiative With Vientiane Vision").
The idea of a Indonesia-Japan Maritime Forum (IJMF) itself is not new. In fact, it was one of the deliverables during Jokowi's Japan visit in 2015, and both sides had agreed to establish it "as soon as possible." At the time, the forum as outlined by the two countries covered several areas including maritime safety, marine industries, and maritime capacity-building. But Japanese and Indonesian officials admitted at the time that specifics would still have to be worked out.
With the inking of the memorandum of cooperation (MoC) on the Indonesia-Japan Maritime Forum between Pandjaitan and Kishida this week, that idea has finally become a reality. The areas covered under the IJMF include maritime safety, security, economy, infrastructure, education, and training. The forum itself, The Diplomat understands, will drive specific areas of collaboration that both sides will prioritize. From Indonesia's perspective, this would include items previously discussed such as greater Japanese investment in oil and natural gas, help in boosting its fish industry, and more training for Indonesia's newly-established coast guard (BAKAMLA) by its Japanese counterparts (See: "Indonesia's Maritime Ambition: Can Jokowi Realize It?"). It will also cover Japanese involvement in economic projects across several Indonesian islands.
It is no coincidence that some of this economic and security cooperation will occur around the resource-rich Natuna Islands, located in the South China Sea northwest of Borneo. As I have pointed out previously, apart from the fact that China's nine-dash line overlaps with the exclusive economic zone (EEZ) around the Natunas, making it a flashpoint as evidenced by recent run-in's between Indonesian and Chinese vessels nearby this year, developing the resources there also makes sense for Jakarta for economic reasons (See: "The Natunas: Why is Indonesia Developing a Flashpoint?").
Though the establishment of the IJMF stole the headlines, Indonesian and Japanese officials also discussed other agenda items in the bilateral relationship. Chief among these was economic cooperation around infrastructure, with the two countries discussing projects involving Japan such as the Patimban port and the Jakarta-Surabaya railway (following Tokyo's devastating loss to Beijing for the Jakarta-Bandung high-speed rail project last year). Some of this is laying the groundwork for Abe's expected visit to Indonesia next month, where much more will be unveiled.
The deepening maritime cooperation between Indonesia and Japan has been developing slowly and is sometimes not played up as much as it could be,. That's due to various factors, including the Jokowi government's priority on continuing to maintain good ties with Beijing largely for economic reasons. Nonetheless, initiatives like the IJMF and the collaboration undergirding it make the growing convergence between the two sides clearer than ever.