Would South Korea Really Go Nuclear?
Only if Donald Trump seriously undermines the U.S.-South Korea alliance.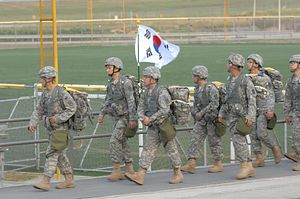 Since Donald Trump won the presidential election last month, concerns over a nuclear South Korea have intensified. Although President-elect Trump reassured President Park Geun-hye of the U.S. security commitment to South Korea, a strong fear of abandonment has arisen in South Korea in light of Trump's campaign statements. When South Korea feared U.S. disengagement from Asia in the early 1970s, it responded by attempting to develop nuclear weapons. Today, the prospect of a nuclear South Korea, unthinkable since the 1970s, is more real than ever. The recent impeachment of Park by the National Assembly earlier this month adds to uncertainty for South Korea's security policies. Could the next administration pursue nuclear weapons as a result of these fears?
The answer will heavily depend on whether the Trump administration reaffirms the strength of the U.S.-South Korea alliance. Otherwise, it is anyone's guess what the policies of the next president will be, which could include "going nuclear."
Until recently, calls for nuclear armament were considered extremist in South Korean political discourse. However, public support for nuclear armament is growing in South Korea due to North Korea's nuclear provocations. In a recent Gallup Korea poll, 58 percent supported nuclear armament. If the U.S. security guarantee is not credible in the minds of South Koreans, and nuclear armament is the only way to defend South Korea's security from North Korea, a nuclear option will seem even more appealing to the public.
Such public sentiment would affect the upcoming presidential election. Presidential candidates could appeal to populist sentiment and promise pursuit of nuclear weapons. At the minimum, they may pledge to acquire the ability to produce nuclear fissile materials (enriched uranium or plutonium) so that South Korea could minimize a future timetable for developing nuclear weapons. This would be a major blow to U.S. nonproliferation policy.
As long as the U.S. security guarantee is intact, nuclear proliferation in South Korea is not a rational choice, as the costs and risks seem to far outweigh the benefits. The security risks would be substantial. Should South Korea decide to go nuclear, the United States would withdraw its security guarantee, while South Korea would require several years to acquire a functional nuclear arsenal. Unless Seoul could manage a covert nuclear weapons program, fooling its closest ally and the rest of the world, which seems highly unlikely given rigorous International Atomic Energy Agency (IAEA) inspections over its nuclear facilities, going nuclear would in fact decease South Korea's security rather than strengthening it.
The economic costs of nuclear armament are no less substantial. If South Korea's fear of abandonment escalates under a Trump administration and the country reveals new nuclear weapons capabilities, the UN Security Council would impose economic sanctions on South Korea, which would damage the country's highly trade-dependent economy. Electricity production, 40 percent of which derives from nuclear energy, would also be disrupted. South Korea imports a large portion of its nuclear fuel from the United States to operate its 25 nuclear reactors. The U.S.-South Korea civil nuclear agreement bans the use of U.S.-origin materials for military purposes. The breach of the agreement would lead to a suspension of U.S. export of nuclear fuels to South Korea. It would be difficult for South Korea to purchase enriched uranium from other suppliers, too, since international nuclear export control regimes, such as the Nuclear Suppliers Group, prohibit transferring nuclear materials to states that develop nuclear weapons in violation of the Nonproliferation Treaty. The suspension of the nuclear fuel supply would cause economic and social distress in this already energy-starved country.
Despite the negative consequences to pursuing a nuclear weapons program, the current political environment in South Korea, combined with Trump's tough campaign rhetoric about the future of the U.S.-South Korea alliance, means that decades-old policies could shift radically overnight. How Trump values America's security role in East Asia will strongly impact the next South Korean administration's decision to challenge North Korea with nuclear weapons development of its own.
Lami Kim is a research fellow at the Belfer Center for Science and International Affairs, Harvard University, a PhD Candidate at the Fletcher School of Law and Diplomacy, and a lecturer at Boston College.