Chinese Navy Commissions Fifth Improved Dongdiao-class Spy Ship
The PLAN Kaiyangxing is the fifth Dongdiao-class AGI to enter service.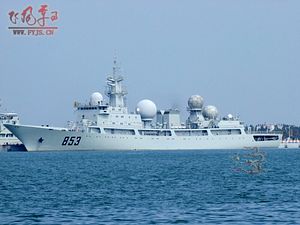 On Tuesday, the Chinese People's Liberation Army-Navy (PLAN) commissioned its fifth improved Dongdiao class (Type 815A) electronic reconnaissance, or auxiliary general intelligence (AGI), ship. The ship will join China's North Sea Fleet.
The PLAN Kaiyangxing was commissioned at a ceremony at the northern Chinese port of Qingdao. The vessel was built at Shanghai's Zhonghua Shipyard, according to IHS Jane's 360.
The PLAN to date has commissioned six Dongdiao-class vessels, five of the improved Type 815A variety and an older Type 815 vessel, the PLAN Beijixing, which was commissioned in 1999. Between the one Type 815 and the four Type 815A, China's AGI fleet currently stands at 5 commissioned vessels.
The PLAN Tianwangxing was commissioned in December 2010 and entered service with the PLAN's East Sea Fleet. Three more vessels were commissioned in 2015, with two entering service with the South Sea Fleet and one with the North Sea Fleet. With the commissioning of the Kaiyangxing, the PLAN's North Sea Fleet will possess two AGIs.
The vessels provide intelligence, surveillance, and reconnaissance support to other PLAN vessels. The Type 815A variant is reported to be capable of tracking ballistic missiles as well.
Chinese AGI ships drew attention in 2012 and 2014 for surveilling the Rim of the Pacific exercises in waters off Hawaii. The 2014 iteration of the exercise was the first ever to include the PLAN as a participant. RIMPAC is the world's largest naval exercise and takes place biennially.
A Type 815 vessel was also at the center of the East China Sea dispute with Japan earlier this year when it became the first PLAN vessel since 2004 to enter the territorial sea around the dispute Senkaku/Diaoyu Islands.
The Dongdiao-class vessels displace 6,000 tons and have a top speed of around 20 knots. The ship is armed with two sets of primary guns — one 37 mm cannon and two 25 mm cannons.
The Type 815A is expected to play an important role in enabling future expeditionary carrier operations for the PLAN.
An unnamed Chinese expert who works in shipbuilding told state-run media this week that "[China's] future carrier battle groups also need such vessels that can provide various kinds of theater intelligence."