China's Second Domestic Aircraft Carrier Is Under Construction: US Report
The new carrier will likely feature a catapult-assisted aircraft launch system.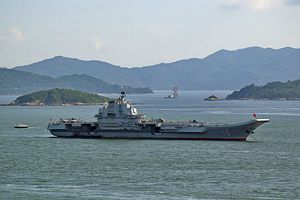 China began construction on the second indigenously built aircraft carrier for the People's Liberation Army-Navy—its third aircraft carrier overall—in 2018, a recent U.S. Department of Defense report on the country's military capabilities confirmed. The new carrier is expected to be operational by 2022, according to the U.S. assessment.
"China's first domestically-built aircraft carrier will likely join the fleet in 2019, and China began construction of its second domestic aircraft carrier in 2018," the Pentagon's report noted. The new carrier "will likely be larger and fitted with a catapult launch system," the report added.
The addition of a conventionally-powered catapult assisted take-off but arrested recovery (CATOBAR) aircraft launch system will improve the sortie rate of the new carrier's airwing over the first indigenous carrier and the Liaoning, a refitted Soviet-era Admiral Kuznetsov-class aircraft carrier.
"This design will enable it to support additional fighter aircraft, fixed-wing early-warning aircraft, and more rapid flight operations," the U.S. report noted.
CATOBAR systems can also reduce the maintenance required for carrier-based aircraft as they generally apply less take-off and landing stress on airframes. That would allow longer deployment times for the carrier and a lower need for its aircraft to be rotated out as maintenance needs arise.
Researchers at the Center for Strategic and International Studies (CSIS) in Washington, D.C., published satellite images showing construction ongoing on an aircraft carrier at China's Jiangnan shipyard near Shanghai.
The vessel appears to be larger than both of China's existing carriers, but will be smaller than the 100,000-ton U.S. Nimitz-class nuclear-powered supercarriers. It remains unclear if China's new carrier will be nuclear-powered, which would allow for lengthy expeditionary deployments.
"While details regarding the Type 002 are limited, what is observable at Jiangnan is consistent with what is expected for the People's Liberation Army Navy's third aircraft carrier," a CSIS analysis published this week observed.
Reports of the new carrier's construction having started emerged as early as January 2018. "Shanghai Jiangnan Shipyard Group reportedly received the go-ahead for the construction of the new supercarrier in March 2017," The Diplomat reported at the time.
The Type 001A carrier—China's first homebuilt aircraft carrier—was launched in 2017 and complete sea trials over the course of 2018. The new carrier may join the People's Liberation Army Navy b the end of this year.
The Liaoning is largely a serving the role of a training platform. The vessel has, however, sailed extensively in China's near seas and has even entered the Western Pacific. Chinese naval aviators have conducted flights off the Liaoning's flight deck to gain experience.