Hong Kong's Chief Executive Race Heats Up
With the election looming in March, the slate of contenders is almost set.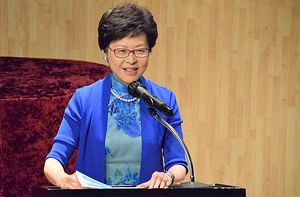 The Hong Kong chief executive elections are set for March, and the expected candidates are beginning to officially declare their candidacies. The first off the blocks was an unexpected candidate in retired judge Woo Kwok-hing. Widely seen as a liberal, and likely never on Beijing's list of preferred candidates, Woo declared his candidacy in October last year. In December, the mercurial and divisive figure Regina Ip Lau Suk-yee announced her bid. More contentiously, John Tsang Chun-wah tendered his resignation as Hong Kong's finance minister in late 2016, and January saw Carrie Lam Cheng Yuet-ngor also resigning as chief secretary in the incumbent Executive Council, both necessary steps for Tsang and Lam to join the chief executive race.
Tsang resigned from his post as finance minister in the current government in December, widely assumed to be the first step in a yet-to-be-announced bid for the chief executive position. While he has made no verbal indication that he will run for the top job, there is little other reason for any official to resign in the months leading up to an election.
However, his resignation is still yet to be officially approved by the Chinese central government. As a matter of procedure, officials may resign by giving one month's notice and by tendering their resignation to the incumbent chief executive. The central government acknowledged that CY Leung, the incumbent chief executive, received Tsang's resignation on December 12, just over one month ago.
The removal and appointment of officials is usually a point of discussion at the Chinese State Council's weekly executive meetings, presided over by the premier, vice premiers, state councilors, and the Communist Party's secretary general. But Tsang's resignation was not on the agenda of the most recent executive meeting, which could suggest that the Chinese central government has no intention of approving his resignation any time in the near future. Having said that, there is no set precedent insofar as the timing of approvals, but officials will remain in their posts until Beijing has given approval of their resignation. Until that day comes, Tsang will continue to be entitled to his regular pay and benefits, as well as an official residence and other inclusive expenses.
This is not ideal for Tsang. He has already moved out of the official residences, according to the South China Morning Post, but technically he cannot announce his candidacy or run a campaign for the chief executive seat until approval from Beijing of his resignation comes down. With the elections only two months away, he already finds himself at a disadvantage compared to other contenders.
Tsang's situation is in stark contrast to Carrie Lam, the chief secretary under the incumbent government. Lam tendered her resignation on January 13. At a 5 pm press conference, only one hour after CY Leung acknowledged her resignation, Lam not only announced her resignation, but explicitly said that she is doing so in order to run for the chief executive position. Lam went as far as explaining her "achievable new vision" for Hong Kong.
Lam's plan included calls for building a more diversified economy in order to create more jobs, nurturing the (employable) talents of young people, balancing development for quality living, creating an inclusive society, supporting the disadvantaged, and finally, safeguarding the principle of "one country, two systems."
All of the candidates for the next chief executive position have spoken about their dedication to Hong Kong. But will the interests of China supersede those of Hong Kong? After the half decade of divisiveness under the CY Leung government, the task of realigning these two things will be no easy task.