Rebel Legislator Enters Race for Hong Kong Chief Executive
Leung Kwok-hung, a long-time thorn in Beijing's side, announces his candidacy.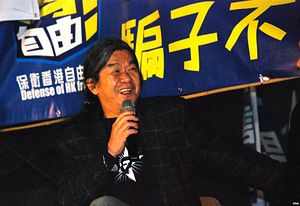 The self-styled Marxist politician known by his nickname "Long Hair," Leung Kwok-hung, 60, has thrown his hat into the ring for the role of next chief executive. As a Trotskyist youth, he founded Hong Kong's Revolutionary Marxist League, which would be disbanded in 1988. Leung is considered working class, having held jobs in construction and cleaning before coming into political prominence protesting for the poor. He has been arrested and jailed on a number of occasions since the 1970s. He was successfully voted into the Legislative Council in 2004 and in 2006 co-founded the League of Social Democrats.
In his time in government Leung has been unapologetic in expressing his views on the oppression of the Chinese people. At his swearing-in ceremony, wearing his trademark long hair, jeans, and Che Guevara shirt, Leung added a statement demanding vindication for those killed in Tiananmen Square Massacre of 1989. He has long been considered a thorn in the pro-establishment's side.
The announcement of his candidacy is a significant step for Leung on a personal level as he has steadfastly opposed to any "small-circle election," the term mockingly used in Hong Kong for election process that only allows China-endorsed candidates.
His candidacy is largely a symbolic move, one based on ideology rather than any political pragmatism. In fact, Leung's announcement poses a significant hurdle for the minority pan-democrats. It is unlikely that Leung's candidacy will be supported by China, meaning he has no realistic chance of winning. The pro-democracy, pro-universal suffrage group of political parties has come down on the side of John Tsang Chun-wah, the former finance minister. Tsang is considered a more even-keeled alternative to Carrie Lam Cheng Yuet-ngor, the candidate alleged preferred by China.
"I am not here to mess with the party, rather I wish to truly reflect the spirit of the 2014 Umbrella Movement, the calls of Hongkongers, and the voice of those low-income people who have always been oppressed," Leung said.
In his announcement, he urged his pan democratic allies not to vote for any of the "small-circle" candidates, and specifically mentioned Tsang, who has said that he will reintroduce national security legislation — which has faced fierce public opposition in the past. Tsang has also proposed to reignite political reform per the stringent guidelines issued by Beijing, which in part, triggered the 2014 Umbrella Movement.
Ironically, Leung's candidacy could be a boon for Carrie Lam, who has faced a surge in unpopularity since the announcement of her candidacy for the chief executive position. The pan-democrats are allegedly planning to stack their votes in favor of Tsang, who they see as a more moderate pro-establishment candidate, while Lam is fast falling in line with chief executive cookie-cutter mold that China prefers.