South Korea to Buy 12 Sub Killer Helicopters
Seoul will field 12 additional maritime patrol helicopters by 2022 to counter North Korean submarines.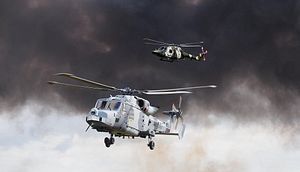 The Republic of Korea (ROK) Navy will procure 12 additional anti-submarine warfare (ASW) helicopters by 2022 to counter North Korea's expanding submarine force, according to local media reports.
South Korea's Defense Acquisition Program Administration (DAPA) announced in the middle of this month that the military will invest $768 million in a new fleet of 12 helicopters.  The three models under consideration are AgustaWestland's AW-159, Sikorsky's MH-60R, and the NHIndustries' NH-90 multirole military helicopter.
"We are planning to sign a deal with one of the three chopper companies by the end of 2018 and the new choppers will be gradually deployed from 2020 through 2022," a DAPA spokesperson told The Korean Herald on January 17.  The deal is part of a larger plan–known as the Maritime Operational Helicopter program–to procure a total of 20 new anti-submarine warfare helicopters by 2022.
The ROK Navy currently operates eight AW-159s with the last batch of four helicopters only delivered in November 2016. It is highly likely that South Korean authorities will stick with the AW-159 given that it outperformed the U.S.-made MH-60R Seahawk helicopter during a competitive bidding process in 2012 and has been performing to the satisfaction of the ROK Navy in tests so far.
The new helicopters will be stationed aboard Incheon-class guided-missile frigates. The ROK Navy currently operates six vessels of the class and expects to commission 12 to 18 more in the coming years. The frigates are fitted with a flight deck and a hangar that can accommodate one ASW helicopter.
As I explained elsewhere (See: "South Korea Receives 4 New 'Submarine Killer' Helicopters"):
The helicopter, "designed to operate from the smallest helicopter-capable ship," according to the the Leonardo-Finmeccanic company website, is powered by two LHTEC CTS800-4N engines and has a maximum range of 265 nautical miles (490 kilometers). It primarily functions as a ASW aircraft, but can also be deployed in other missions.

"The platform is equipped with the latest communications, navigation systems, advanced sensors and a wide range of weapons, providing mission commanders with Intelligence Surveillance and Reconnaissance (ISR), Maritime Interdiction Operations (MIO), Anti Surface Warfare (ASuW), Anti Submarine Warfare (ASW) and Search and Rescue (SAR) capabilities," according to the company website.

The helicopters will be equipped with a Selex Seaspray 7000E active electronically scanned array radar and a Thales Compact FLASH Sonics low-frequency, long-range dipping sonar system, next to other ASW sensors, including sonobuoys.

The multi-mission maritime helicopter will likely be armed with Spike NLOS missiles, K745 Cheong Sangeo (Blue Shark) light-weight torpedoes and depth charges. The aircraft can stay in the air for 2-3 hours depending on the load.
The entire fleet of AW-159 is currently undergoing flight and weapon trials and is expected to enter active service with the ROK Navy in the coming months.