Trump Killed TPP. What's Next For Trade in Asia?
Free trade in Asia is far from dead. The question now is whether the U.S. will reap any of the benefits.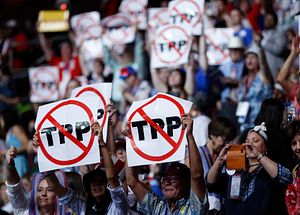 On Monday, U.S. President Donald J. Trump signed an executive order withdrawing the United States from the Trans-Pacific Partnership, an agreement he has described as a "disaster" and the "worst trade deal ever." Given the entry-into-force conditions in the TPP as it was signed by the 12 participating nations last February, there is no way TPP, in its current form, can take effect without the United States' participation. (I've explained before at The Diplomat why U.S. participation is an absolute requirement for the TPP to take effect.)
Monday's executive order wasn't surprising. TPP's fate was all but sealed when Trump won the U.S. presidential election in November 2016. His opponent in that election, Hillary Clinton, had also voiced opposition to the agreement, but certain analysts held out hope that Clinton could change positions once in office. Despite TPP's demise under Trump, the future of free trade in Asia is far from over. What's uncertain, however, is the extent to which the United States can aspire to regain the sort of strategic leverage and leadership an agreement like TPP, which notably excluded China and included high environmental, intellectual property, and labor standards (among other provisions), would have conferred.
Despite waning interest in the putative benefits of free trade and globalization in the West amid a surge in economic nationalist leaders, demand for trade liberalization persists in the Asia-Pacific. Accordingly, TPP has never been the only trade game in town. Though there are no other multilateral arrangements aspiring to the complexity of nontariff provisions included in the TPP, two arrangements are notable for at least including a comparably large collection of economies.
The first of these is the Regional Comprehensive Economic Partnership (RCEP) — a multilateral deal that has been in negotiation since 2012 and excludes the United States. RCEP includes all of the ten member states of the Association of Southeast Asian Nations (ASEAN), Asia's two emerging giants, India and China, and Australia, South Korea, Japan, and New Zealand. You'll see commentary in the aftermath of TPP's demise describing RCEP as China's nefarious challenger to the U.S.-led trade deal, but the reality is a little more anodyne. First of all, the United States isn't part of RCEP because a prerequisite for joining negotiations is a free-trade agreement with ASEAN.
In fact, China is far from being the primary equity-holder in RCEP negotiations. If anything, ASEAN represents the "center of gravity" for RCEP, even though China and other negotiating parties certainly bring considerable influence to the table. The agreement, once concluded, is expected to fall far short of the level of standards included in the TPP, owing primarily to the divergent states of development and levels of interest among the negotiating parties. RCEP could come closer to aspiring to something like what the TPP represented should certain states (Japan, notably) push for a higher-standard and more ambitious agreement overall.
There's another Asian multilateral free-trade proposal that includes the United States. The Free Trade Area of the Asia-Pacific (FTAAP) was born of the 21-state Asia-Pacific Economic Cooperation (APEC) forum roughly a decade ago. FTAAP remained a mostly aspirational proposal for years, but gained important thrust in 2014, when China chaired the grouping, which is purely consultative and not a formal negotiating forum.
Since then, China, more so than APEC, has been seen as a driving force behind the FTAAP as a competitor to TPP. APEC's 2016 leader's meeting in Peru, which came after Trump's election, acknowledged a continued "commitment to the eventual realization of the FTAAP as a major instrument to further deepen APEC's regional economic integration agenda." A more detailed annex to the leader's Lima Declaration on FTAAP demonstrates that the agreement remains aspirational, with much work to be done to better shape the contours of this potential multilateral FTA.
So, that's a brief rundown of the "big three" Asian multilateral free trade agreements — TPP, RCEP, and FTAAP. What else remains? Well, according to the Trump administration, TPP's death doesn't mean the United States is getting out of the free trade business in Asia. Instead, going by comments delivered by Sean Spicer, the White House press secretary, shortly after Trump's signing of the executive order on Monday, the new U.S. administration will double-down on bilateral FTAs.
Bilateral free-trade agreements between the United States and Asian countries are limited, but aren't totally unfamiliar territory. Of the 20 countries with which the United States has existing bilateral FTAs, Australia, South Korea, and Singapore are in the Asia-Pacific region. Meanwhile, a U.S.-Japan free trade agreement was once the topic of much debate in both Washington and Tokyo and may soon reemerge as an issue in both capitals following TPP's demise.
Bilateral trade deals have their appeal for Trump and his constellation of advisors on trade, including his U.S. Trade Representative Robert Lighthizer, his National Trade Council head Peter Navarro, and Commerce Secretary Wilbur Ross. One early problem for Trump's bilateral trade aspirations is that he may not find much reciprocal interest in the Asia-Pacific — at least not without offering concessions that might not align fully with what his administration conceives of as being compatible with an "America First" vision.
One final option that some have brought up is a TPP 2.0 or TPP-1 that would involve a reconvening of the 11 other signatories to revisit the conditions for entry-into-force, along with tweaking and removing various other provisions to make up for a less appealing agreement (given the loss of U.S. market access). Jeffrey J. Schott at the Peterson Institute for International Economics has a good post on how this might work, with the most likely pathway being not a renegotiated TPP 2.0, but an agreement by each of the 11 to offer TPP benefits on a "provisional basis." (Schott points to the General Agreement on Tariffs and Trade as a provisional agreement here, and a few other points of precedence.)
Australia and New Zealand, meanwhile, have floated an opposite strategy: one to restore the attractiveness of a TPP-sans-America by inviting other Asian states to join up. "Losing the United States from the TPP is a big loss, there is no question about that," Australian Prime Minister Malcolm Turnbull remarked early on Tuesday. "But we are not about to walk away … certainly there is potential for China to join the TPP." Turnbull's remarks raise the question of whether a TPP that could accommodate China and high standards is possible at all. Without the latter, any new trade arrangement would effectively be a new beast altogether and not the TPP Trump just withdrew the United States from.
While the TPP-1 idea may sound workable in theory, we haven't seen much evidence its signatories are interested in proceeding without Washington. Japanese Prime Minister Shinzo Abe, head of the second-largest TPP economy, was especially blunt in Lima, on the sidelines of the APEC meeting, when he said the agreement would be "meaningless" without the United States. Vietnam, the least-developed TPP signatory, appears to be committed to a path of economic liberalization, with or without TPP, as Nguyen Thanh Hai, deputy director general in charge of policy issues at Vietnam's national APEC secretariat, told an audience in New York last week.
One area to watch will be Chinese public diplomacy around the issue of free trade and globalization. We may have just witnessed the start of a new era in Chinese diplomacy on this subject with Chinese President Xi Jinping's wide-ranging remarks on the topic in front of the global elite gathered at the World Economic Forum in Davos. Despite China's many protectionist shortcomings, public diplomacy by Beijing could provide the lubrication necessary to position it to gain from TPP's demise. Economically significant Asia-Pacific states with a U.S.-friendly outlook, including Japan, Australia, and Singapore, could provide some ballast for higher standards in trade agreements, but a concerted effort by China may prove increasingly effective in the region.
Commerce and security are increasingly linked for smaller Asian states as well and one of the biggest sources of unease over China's participation in RCEP and FTAAP is the geopolitical uncertainty born of maritime and other disputes. The winds of change are blowing here, though; Beijing has ramped down its assertive behavior in the South China Sea since last year's ruling by a tribunal at the Permanent Court of Arbitration at The Hague and pursued diplomatic rapprochement with the Philippines under Rodrigo Duterte, for example. It's unclear, however, whether India, Japan, Australia, and Singapore would fully delink economic integration from ongoing concerns about Chinese irredentism and militarization.
One final reason why China might not be poised to win big and win immediately from the demise of TPP comes down to structural realities in the Chinese economy that may make smaller Asian states wary of too much trade liberalization, too quickly. China currently runs massive trade surpluses, which leaves it playing a very different role as a large trading nation than the United States. The U.S. has long run trade deficits and stood as a strong locus of demand for Asian manufacturing output.
Even if Trump's "America First" turns the U.S. half of this on its head, China will face its own difficulties in convincing other Asian economies that it can generate demand for their goods. Otherwise, these states may come to see China-inclusive trade deals as opening the flood gates for low-priced Chinese goods. This won't be enough to turn Asian states protectionist, but it will encourage careful negotiations on arrangements like RCEP and FTAAP. Month-to-month data may show relative lapses in Chinese trade surpluses, suggesting a painful correction awaits Beijing's manufacturers, but China continues to run strong surpluses in absolute terms.
To sum the above, the Trump administration's decision to withdraw the United States from TPP doesn't spell the end of free trade in Asia, but it does pose a setback to U.S. strategic leverage in the region. However, the commonly heard idea that what the U.S. loses with TPP, China will gain isn't entirely straightforward at this point. It remains far too early to celebrate either RCEP or FTAAP as a foregone conclusion and especially as FTAs with significantly favorable terms for China. TPP's failure will serve to energize negotiations on these agreements in Asia, where demand for trade liberalization continues to exist among national governments, but it's not clear that China will emerge a clear winner and write the rules of trade for the region as Washington pulls back from multilateral trade arrangements.
Ankit Panda is a senior editor at The Diplomat. He tweets at @nktpnd.