Uzbekistan Postpones Grand Opening: Visa Changes Delayed Until 2021
A previously heralded visa liberalization has been punted to 2021.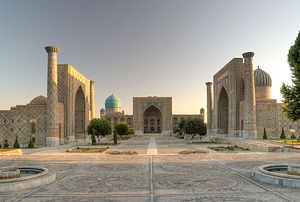 If you were planning a summertime trip to Uzbekistan — prompted by the surprising December presidential decree that was set to roll back visa requirements for a number of countries — you may want to reevaluate your plans.
A new decree, published on January 9, punts the changes in Uzbekistan's visa program to 2021.
The now-defunct December announcement listed 15 countries, mostly wealthy countries in western Europe and east Asia, for which visa requirements would be dropped for stays of 30 days or less. An additional 12 countries would have had visa requirements dropped for travelers over 55.
Analysts at the time were surprised, and cautiously hopeful, that the visa liberalization was a signal of wider relaxation of authoritarian strictures and a recognition of tourism as a crucial sector for development.
Tourism has long been an under-tapped resource in the country. But, as I noted in December, traveling to Uzbekistan is not the simplest feat:
Uzbekistan has been a difficult destination for travelers. The heart of Central Asia — with some of its most ancient and beautiful sites — required visas for citizens of most countries. There was a shortlist of countries whose citizens didn't need a Letter of Invitation (LOI) from a licensed travel agency — Austria, Belgium, Great Britain, Germany, France, Spain, Italy, Latvia, Malaysia, Switzerland, and Japan — but all others needed to make arrangements before applying for a visa. The process was off-putting, a fact reflected in Uzbekistan's tourism statistics, which put the country behind Kazakhstan and Kyrgyzstan with just 2 million visitors in 2013.
The new decree pushes changes to the visa program, as well as a promised electronic visa system, to 2021. As Gazeta.uz reports, the official reasons for postponing the abolition of visa requirements are to ensure sustainable and balance development, allow for the creation of the necessary resources, to ensure the safety and health of tourists, and develop "equitable external economic cooperation."
Identifying the logic behind the reversal is akin to reading tea leaves. For some, it's evidence that new President Shavkat Mirziyoyev doesn't wield total authority just yet; for others it's a realization that Tashkent isn't ready for an influx of tourists.
It's possible that Tashkent simply realized that it had bitten off more than it could chew. Relaxing an entire system previously designed to carefully control who came into the country clashes with other state policies designed to keep tabs on where foreigners travel within the country. An influx of Western tourists expecting the freedom to explore they get elsewhere could certainly wreak havoc on Uzbekistan's unprepared tourist infrastructure and clash with ingrained suspicion of outsiders poking around, taking selfies at national monuments, and photographing government buildings.