Citizens of 45 More Countries to Get Visa-Free Access to Uzbekistan
As of February 1, tourists from 45 additional countries will be able to travel to Uzbekistan for 30 days without a visa.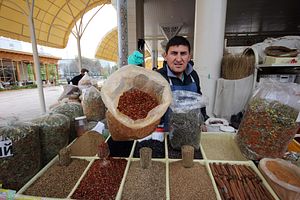 The grand opening continues in Uzbekistan with the granting of visa-free access, for up to 30 days, as of February 1 for travelers from 45 countries. The visa-free expansion was announced on January 5 by President Shavkat Mirziyoyev and follows other moves to open the country to tourists and investors alike.
The progress of visa liberalization, while a facet of Mirziyoyev's reform program, has with its fits and starts hinted at the contours of larger movements within Uzbekistan's power structures.
There were stumbles early on in Uzbekistan's effort to liberalize its visa policies. In December 2016, as Mirziyoyev formally assumed the presidency, he issued a decree that was set to roll back visa requirements for a number of countries. The surprisingly rapid opening, however, was within a month dealt a devastating blow: A new decree in early January 2017 punted visa changes to 2021, including not only expansion of the visa-free list but also an electronic visa system.
I wrote at the time: "Identifying the logic behind the reversal is akin to reading tea leaves. For some, it's evidence that new President Shavkat Mirziyoyev doesn't wield total authority just yet; for others it's a realization that Tashkent isn't ready for an influx of tourists."
For the rest of 2017, little was said about plans to liberalize Uzbekistan's visa rules.
2018, however, marked another start — this time successfully. The opening step was the sidelining of the National Security Service (SNB) head, 73-year-old Rustam Inoyatov. For 23 years, Inoyatov had served under Islam Karimov, running the country's much-reviled security service. In December 2017, Mirziyoyev's year-end address feature harsh criticism directed at the SNB:
"[W]e should not allow a single body to collect all the powers and resources and prevent violation of the principle of checks and balances," he said after lambasting the country's law and order bodies for overreach and failing to protect Uzbek citizens' rights.

"In this regard," he continued, "it should be noted that the bodies of the National Security Service have been acting till the present day on the basis of the Regulation approved by the government 26 years ago."
"Every ordinary issue,"  Mirziyoyev said in December 2017, "has been regarded as a threat to national security which led to the groundless expansion of the agency's powers." Ordinary issues like tourism, perhaps.
In late January 2018, Inoyatov was dismissed and within a week Uzbekistan announced visa changes again. This time, efforts to liberalize Uzbekistan's visa regimes have proceeded largely as announced.
As of February 10, 2018 citizens from seven countries —  Israel, Indonesia, South Korea, Malaysia, Singapore, Turkey, and Japan — were given visa-free access up to 30 days. Uzbekistan also, at that time, simplified visa procedures for citizens of 39 countries including those in the European Union, many in East Asia and the Middle East, as well as India and the United States by removing the requirement for a voucher or letter of invitation and shortening the timeline for issuing a visa. Also promised was the introduction of an electronic visa system in July 2018.
In March 2018, Uzbekistan abolished visa requirements for Tajik citizens — an important step in the rapprochement between the two countries that has been a core effort of the Mirziytoyev administration.
In mid-July 2018, Uzbekistan introduced an electronic visa system as well as a scheme allowing visa-free entry for up to five days while in transit for citizens of 101 countries. And in October 2018, French citizens were given visa-free access for up to 30 days.
This year's leap forward on the visa liberalization project features the introduction of visa-free travel, for up to 30 days, for citizens of 45 countries as of February 1, plus Germany as of January 15. In addition, the list of countries whose citizens can apply for visas electronically has been expanded by 76 countries.
While Canadians, Australians, and nearly all Europeans will soon be able to travel to Uzbekistan without a visa — as well as citizens of Mongolia, Brazil, and Chile among others — Chinese and Americans will still need a visa.
The next expected step is the introduction of a so-called Silk Road visa by Kazakhstan and Uzbekistan. The program, announced to reporters in Tashkent by Acting First Deputy Chairman of the Uzbek State Committee for Tourism Ulugbek Qosimhojaev on December 20, 2018 and mentioned by the Kazakh Ambassador to the United States Erzhan Kazykhanov in Washington, DC the same day, would enable travelers with a visa from either country to travel to both.