With Surprise Visa-Free Travel Plan, Is Uzbekistan 'Open for Business'?
Central Asia watchers were genuinely surprised by the decision, and cautiously hopeful.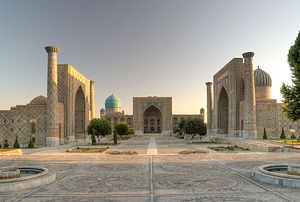 Update: In early January 2017, Uzbekistan changed its visa liberalization plan, pushing it back to 2021. This story remains as written and here is a piece on the reversal.
An acquaintance in Bishkek this summer explained to me why the city had so many coffee shops. The way he told it, it's because so many travelers from around the world came to Bishkek with the specific purpose of waiting. They'd fly in — no visa needed for citizens of more than 40 countries — and loiter in Bishkek's cafes and hike Kyrgyzstan's gorgeous mountains while waiting for their visas for Uzbekistan and Tajikistan to come through.
Tuesday's genuinely surprising news that Tashkent would be rolling back visa requirements for citizens of 27 countries seeks to ignite Uzbekistan's largely untapped tourism potential.
The changes are expected to go into effect in April 2017. Citizens from 15 countries — Australia, Austria, Canada, Denmark, Finland, Germany, Italy, Japan, Luxembourg, the Netherlands, Singapore, South Korea, Spain, Switzerland, and the United Kingdom — will be able to travel to Uzbekistan visa-free for up to 30 days.
A visa-free month will be available to citizens over the age of 55 from 12 other countries — Belgium, China, the Czech Republic, France, Hungary, Indonesia, Israel, Malaysia, Poland, Portugal, the United States, and Vietnam.
So far, no official explanation of the age restriction or how these countries were sorted into the two lists has been offered, but Bakhtiyor Nishanov, regional deputy director for Eurasia at the International Republican Institute, has suggested that the age-based tier system "allows the government in future negotiations with the countries with the age restriction to further liberalize the visa regime, but also keeps potential troublemakers [say, younger regime bashing Uzbek-Americans] out."
Uzbekistan has been a difficult destination for travelers. The heart of Central Asia — with some of its most ancient and beautiful sites — required visas for citizens of most countries. There was a shortlist of countries whose citizens didn't need a Letter of Invitation (LOI) from a licensed travel agency — Austria, Belgium, Great Britain, Germany, France, Spain, Italy, Latvia, Malaysia, Switzerland, and Japan — but all others needed to make arrangements before applying for a visa. The process was off-putting, a fact reflected in Uzbekistan's tourism statistics, which put the country behind Kazakhstan and Kyrgyzstan with just 2 million visitors in 2013.
Even the neighbors have had a tough time. Uzbekistan liked to shut its borders on holidays and for major events. Kyrgyz citizens living along particularly contested section of the border found it occasionally very difficult to visit Uzbekistan.
But times may be changing.
On Sunday, Shavkat Mirziyoyev was elected president. In the weeks preceding the election, Mirziyoyev had taken on the mantle of acting president and began pursuing deliberately diplomatic outreach to the neighbors. Friendship visits, progress on border talks, the release of a long-held political prisoner and the announced resumption of flights between Tashkent and Dushanbe after a 24-year hiatus have hinted at the possibility of a more open Uzbekistan.
"Since Karimov's passing, it feels like they've been trying to change the tone," Nate Schenkkan, project director for Freedom House's Nations in Transit, told The Diplomat.
Schenkkan is mildly optimistic that Uzbekistan under new leadership may move in a more positive direction. But can we call this a thaw in the state's authoritarian facade? Not quite. "There are enough signs to talk about a thaw," Schenkkan said, "There aren't enough to say that there is one." If it's a thaw, it isn't an overtly political one. Modest steps toward an opening, Schenkkan said, have all been "low-hanging fruit."
Low-hanging fruit is precisely what Tashkent needs to harvest.
Nishanov told The Diplomat that "the Uzbek government is desperate to resuscitate its economy."
The visa liberalization is "the clearest indication yet that Uzbekistan is moving away from the self-imposed isolationist policies and signals the country is 'open for business,' so to speak," he said.
Mirziyoyev made economics the focus of his campaign rhetoric, particularly focusing on private enterprise and foreign investment. He pledged to double Uzbekistan's GDP by 2030. The visa regime changes are designed specifically to accelerate the development of the tourism industry, which the decree elevated to a "strategic sector of the economy."
Gazeta.uz outlined the changes — "unprecedented measures to radically reform the tourism industry" — which go beyond just a relaxation of visa requirements. Uzbekistan plans to introduce a system to file visa forms online and an electronic visa system in 2018 — further simplifying the process. In addition, Uzbektourism, the national company charged with tending the state's tourism industry, will be made into the State Committee for Tourism Development. As Gazeta.uz put it, it will be "entrusted with supporting entrepreneurship in tourism, boosting competition and eliminating all barriers in the sector, as opposed to controlling and administrative functions."
Nishanov borrowed an old American phrase to explain the tourism-related liberalizations: "it's the economy, stupid."