What's Next for China-Thailand Military Ties in 2018?
A closer look at the trajectory of the Southeast Asian state's deepening cooperation with Beijing in 2018.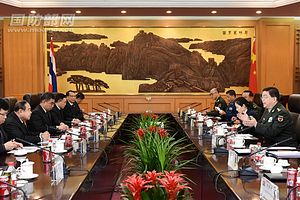 On January 26, Thailand's military carried out a high-profile test of Chinese-built battle tanks, with media outlets invited to witness the event. The development once again put the focus on the Southeast Asian state's deepening cooperation with Beijing in the defense realm.
Though China and Thailand have had some military cooperation dating back decades, it noticeably deepened following the coup in May 2014 orchestrated by the current ruling junta led by Prime Minister Prayut Chan-o-cha, amid a corresponding downturn in U.S.-Thai relations. While much of the focus has been on Thailand's purchase of Chinese submarines, there have been other notable developments in defense ties as well, including a first-ever joint air force exercise, planned purchases of tanks, and even discussions about a joint military production facility to advance defense industry cooperation (See: "When Will Thailand's First China Submarine Arrive?").
Both sides continue to discuss ongoing progress in this realm in 2018. In terms of the general relationship and routine bilateral meetings, in early January, Zhang Li, the Chinese military attaché to Thailand, paid a courtesy call on Supreme Commander Thanchaiyan Srisuwan at the headquarters of the Royal Thai Armed Forces (RTAF). During the meeting, both sides reportedly discussed various components of bilateral defense ties and also committed to continuing to carry out military drills this year. Apart from bilateral engagements, China will also participate again in the upcoming iteration of the Cobra Gold multinational exercises (See: "What Will the 2018 Cobra Gold Military Exercises in Thailand Look Like?").
Progress has been touted in specific areas of cooperation as well. With respect to equipment, of particular note is progress on Thailand's purchase of the MBT-3000 main battle tank (or V-4) produced by China North Industries Corporation (NORINCO). Bangkok is looking to replace the aging M-41 tanks it bought from the United States decades ago and had experienced some problems with the delivery of T-84 Oplot tanks previously ordered from Ukraine.
Thailand's initial purchases of Chinese tanks were announced back in 2016, and further moves were announced last year, as I observed previously, for what Defense Minister Prawit Wongsuwan had indicated could be an initial total of up to 49 tanks (See: "More China Tanks For Thailand?"). On January 26, 2018, the Royal Thai Army invited journalists to witness tests of the tank at the Royal Thai Army Cavalry Center at Adisorn military camp in Saraburi, leading to a wave of commentary. Chinese state media in particular played up the praise that the tanks had received from the Thai military, not only in terms of success in testing, but also other dimensions such as cost effectiveness and ease of operation.
Separately, China and Thailand have also reaffirmed their commitment to the construction of a repair and maintenance center, another development that has been grabbing headlines in the past few months. As I have noted before, though suggestions are that this will be both a source of weapons parts and technology transfers to Thailand and a place to manufacture and repair armaments China supplies to Thailand and other countries in the region, few details have subsequently been disclosed in the way of specifics so far despite some movement (See: "What's with the New China Thailand Military Facility?").
In remarks issued following the testing of the Chinese tanks last week, Thai Army Chief General Chalermchai Sitthisart said that plans were being finalized for the military facility. Again, he did not reveal much in the way of specifics on this front.
More details are likely to follow in subsequent meetings, be it between defense officials or leaders themselves as they discuss other notable developments beyond the security realm. China and Thailand have a number of areas ripe for nondefense-related cooperation, from the China-Thailand high-speed railway and the broader Belt and Road Initiative (BRI) to subregional and regional initiatives such as China's Lancang-Mekong Cooperation (LMC) platform. As Thailand deals with its domestic challenges and forges ties with other external partners as well, including the United States, the Sino-Thai defense relationship will remain an interesting one to watch.