With Growth of Coal Power Plants, Vietnam's Future Is Grim
Vietnam doubles down on coal-fired power plants, despite a recent study warning of the high environmental costs.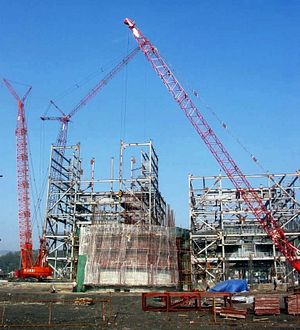 On January 12, 2017, the academic journal Environmental Science & Technology published a study by researchers from Harvard University, Greenpeace, and the University of Colorado Boulder titled "Burden of Disease from Rising Coal-Fired Power Plant Emissions in Southeast Asia." Based on official data on the future installation of coal-fired power plants in Southeast Asia and atmospheric transport modelling, the research group presented a grim picture of regional air pollution due to emissions from these plants.
According to this research, by 2030 Vietnam will be the ASEAN country most affected by coal pollution in term of the premature mortality rate due to coal plant emissions, with 188.8 excess deaths per million people. That's significantly higher than the second most-affected country in the region, Indonesia (85.4 excess deaths/million people). In total, it is estimated that there will be almost 20,000 excess deaths per year by 2030 in Vietnam due to coal pollution, or a fivefold increase from the calculated number for 2011, which is 4,252 excess deaths. To put this number in context, traffic accidents, which are the leading cause of unnatural deaths in Vietnam, had an average fatality rate of around 106 excess deaths/million people over the past five years.
Aside from its alarming findings, the timing of the Harvard-Greenpeace-Colorado report is also notable, because the Vietnamese government just announced the decision to scrap its ambitious plan to introduce nuclear energy to the country, citing a lack of demand and financial issues as the main reasons for the cancellation. According to the spokesman and chairman of the Government Office, Mai Tien Dung, the 6,000 MW capacity that was previously projected for nuclear power up to 2030 will be replaced by fossil fuel power plants using coal and liquefied natural gas. In fact, coal will replace hydro as the main source of electricity generation in Vietnam by early 2020, and by 2030 coal-fired plants will generate more than half of the country's total electricity.
To reassure the public about the possible impact of coal pollution, newly-elected Prime Minister Nguyen Xuan Phuc, while doubling down on coal, emphasized in his meeting with Vietnam Electricity that the state utility must pay attention to the environmental aspects of new power projects and take into account lessons learned from recent industrial pollution incidents. Aside from the recent infamous chemical spill caused by the Taiwanese steel company Formosa, such incidents include a case of air and marine pollution from the Vinh Tan coal-fired power plants, which are located not far from the planned site for the first nuclear power plant of Vietnam. Vietnamese experts have also voiced concerns about the fact that many coal-fired power plants have been equipped with outdated, inefficient, and polluting technologies from China, which may be cheap investment in the short term but will induce enormous impact on the environment and local communities in the future.
Given the dwindling capacity of hydropower and the limited potential of renewable energy in a country with high population density and strained electricity grid, the budget-constraint Vietnamese government really does not have many choices for its energy development plan other than coal and natural gas. However, no matter how limited state resources are, the priority of any political agenda must be the welfare of the public, who will be the first to suffer from the academically-proven impact of coal pollution.
Better late than never, as the saying goes — maybe it is time for Vietnam's decision-makers to eliminate dirty coal-fired power plants and explore cleaner options for electricity generation. Among these options, zero-emission nuclear power should also be reconsidered for the well-being of the Vietnamese people in the future, even though its return is improbable in the short term due to political and economic considerations.
Viet Phuong Nguyen is a research fellow in the Belfer Center's International Security Program and Project on Managing the Atom. He is a Ph.D. candidate in nuclear engineering at the Korea Advanced Institute of Science and Technology (KAIST) after receiving a B.Sc. in nuclear physics from the Vietnam National University and a M.Sc. in nuclear engineering from KAIST.