Ahok, the Jakarta Gubernatorial Race, and the Future of Indonesian Islam
Does the blasphemy scandal surrounding Ahok portend a transformation of Indonesian Islam?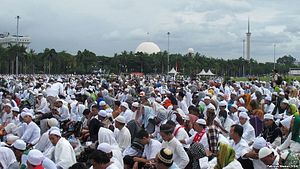 The Diplomat's Ankit Panda (@nktpnd) and Prashanth Parameswaran (@TheAsianist) discuss the blasphemy scandal surrounding Jakarta Governor Basuki Tjahaja Purnama ('Ahok'), the 2016 gubernatorial race in Jakarta, Anies Baswedan, and the future of political Islam in Indonesia.
Click the arrow to the right to listen. If you're an iOS or Mac user, you can also subscribe to The Diplomat's Asia Geopolitics podcast on iTunes here. If you use Android, you can subscribe on TuneIn here. If you like the podcast and have suggestions for content, please leave a review and rating on iTunes and TuneIn.