Australia Gets Reassurance on Refugee Deal and Dual Citizen Exception
Australia seeks critical clarifications on the impact of U.S. President Trump's recent executive order.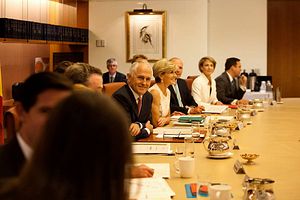 Australian Prime Minister Malcolm Turnbull has received an assurance from U.S. President Donald Trump that a deal established with the Obama Administration to resettle refugees currently being held in Australia's offshore detention centers on Manus Island (PNG) and Nauru will still stand.
Trump's executive order restricting travel from seven Muslim-majority countries and suspending all refugee admission for 120 days had the potential to rescind the deal that was struck in November last year. Yet after a 25-minute phone call between the two leaders Turnbull was able to receive an assurance from Trump that the deal would be honored.
The Australian government maintains that no asylum seekers who attempt to reach Australia via a maritime route would ever be resettled in the country. This made the deal with the United States a decent compromise between Australia's hardline stance and the potential for those found to be refugees being resettled in a country with the resources to absorb them, after a previous deal with Cambodia failed.
There are currently around 1,600 people on Manus Island and Nauru who have been granted refugee status and are eligible to be resettled in the United States as part of the deal if they are cleared by U.S. Homeland Security. However, neither the Australian nor U.S. government has indicated how many of these the United States is obliged to take in the agreement. Of these refugees, Iranians comprise the largest group, with a significant number of Iraqi, Sudanese and Somalis also among the detainees. The United States may decide to filter those it does take by the parameters of the executive order.
The executive order, banning travelers from Iran, Iraq, Somalia, Syria, Sudan, Libya and Yemen, also posed a significant problem for Australians who have dual citizenship with these countries, with around 110,000 Australians being born in the affected countries, and many others eligible for citizenship through their heritage. On Monday a high school student was denied a visa for a school trip to Washington D.C. on the grounds of his dual citizenship with Iran. The U.S. Consulate in Melbourne rejected his application due to "presidential proclamation."
However, after both Canada and the United Kingdom were able to secure exemptions for their citizens who hold dual citizenship with the affected countries, Australian diplomats rushed to secure the same deal for Australians. By Tuesday afternoon (Australian time) Turnbull was able to announce that Australian dual citizens would also be exempt from the travel ban (with the schoolboy now hopeful his initial rejection will be overturned).
Both the ability to maintain the refugee resettlement deal and to have Australians with dual citizenship exempt from the executive order demonstrates that Australia may have some sway with the new administration. For Australia, the shift to a U.S. administration that seeks to challenge established norms poses a major dilemma to its security and prosperity, so for Turnbull these assurances would count as both a significant win and a major relief.
With Turnbull trapped between wishing to responsibly observe the rules-based international norms that have served the country well, elements within his own party who have similar radical designs as  Trump, and Australia's adherence the United States as its primary security partner, any influence he can hold with the new president is of great importance to both his own power and Australia's interests.  
Yet some members of Turnbull's government are feeling smugly satisfied with this shift in norms from the United States, claiming that the Trump Administration is following Australia's lead on "tough borders". Motivated by partisan enmity, these politicians seem oblivious to the forces of instability that may potentially be unleashed when the world's dominant state takes a more aggressive stance against the movement of people, particularly one that is targeted at a specific religious group. The chaotic moves of a country of the United States' size and global influence will always carry far greater knock-on effects than any decisions made by a middleweight player like Australia.
With the Center for Strategic and International Studies warning that Trump's executive order is playing into the hands of Islamic extremism, the numbers of people seeking asylum from the Middle East has the potential to increase, and Australia could once again see an increase in asylum seekers attempting to reach the country via maritime routes, and a problem that it believes it is disposing of with its resettlement deal with the United States will be back on its doorstep.