Donald Trump and the Terrible, Horrible, No Good, Very Bad Phone Call With … Australia?
Details of a phone-call-gone-bad hit home that Trump is exactly who he said he was.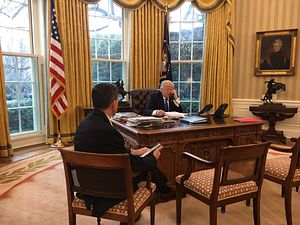 It turns out that Donald Trump still possesses the capacity to surprise. A spectacular Washington Post report, that has been independently confirmed with Australian sources by ABC News, notes that the new U.S. president's first-ever call with Australian Prime Minister Malcolm Turnbull didn't go well — and that's putting it lightly.
If there's any country whose leader can be expected to enjoy a cordial phone call with the president of the United States, it should be Australia, which shares a long-standing alliance with Washington. The two countries have fought on the same side in multiple major wars for more than a hundred years. Moreover, Australia is part of the Five Eyes intelligence-sharing agreement, which also comprises Canada, New Zealand, and the United Kingdom.
According to the Post, Trump went as far as to tell Turnbull that "This was the worst call by far," on a day when he had spoken to multiple other world leaders, including Russian President Vladimir Putin. Trump, incredibly, hung up on Turnbull abruptly. Turnbull, when asked about the call with Trump, neither confirmed nor denied the reports. "These conversations are conducted candidly, frankly, privately. If you see reports of them, I'm not going to add to them," he simply said.
The issue that led to Trump's explosion against the Australian prime minister was an agreement over refugee transfers to the United States that had been concluded under the Obama administration. Australia, per the agreement, would transfer 1,250 refugees to the United States. (Grant Wyeth has more background on that deal over at our Australia section here at The Diplomat.)
Trump's obsession with "extreme vetting" has made the implementation of this deal a fraught issue. "This is the worst deal ever," Trump reportedly told Turnbull. Trump's conversation with the Australian leader came on the heels of his controversial executive order banning refugees to the United States and banning travelers from seven Muslim-majority countries.
Incredibly, Trump accused Turnbull of wanting to send the "next Boston bombers" to the United States (never mind that the Tsarnaev brothers hailed from the northern Caucasus). The WaPo report, which appears to be based off a leaked transcript, correctly adds that the Turnbull call was in reality nothing like that the official White House readout suggested. The readout, for instance, notes that the two leaders "emphasized the enduring strength and closeness of the U.S.-Australia relationship that is critical for peace, stability, and prosperity in the Asia-Pacific region and globally."
That sounds normal and anodyne, and the Trump-Turnbull call had received scant attention until this report. But how Trump behaved with Turnbull is incredibly revealing of his style in interpersonal diplomacy and other U.S. allies and partners — certainly in the Asia-Pacific — would do well to take note.
First, set aside every foreign policy analysis you read during the U.S. presidential transition that suggested that because of Trump's background as a businessman and his Art of the Deal-inspired brand, he would emerge as a transactional leader, setting aside old shibboleths for new deals.
The Turnbull call isn't the only example that this is true by any means, but it's a quite stark example of Trump's true diplomatic style, which appears to oscillate between petty hucksterism at its best and mafia-style intimidation at its worst. (Trump's many comments of the value of U.S. alliances during his campaign also were suggestive of him seeing U.S. extended deterrence commitments as a mafia-esque protection racket.)
Second, Trump, while obsessed with his domestic political standing, is unable to seize simple opportunities for foreign leverage. For instance, if this U.S.-Australia deal had been quietly and amicably implemented, and the U.S. had let in 1,250 refugees, Trump's base would likely have never noticed. Instead of agreeing to honor the existing deal and gaining important interpersonal capital and trust with Turnbull, Trump chose to relitigate the issue, straining the relationship.
Third, that Trump would choose to renege this directly on an Obama-era commitment — however small — will be of immense concern to other allies. There is the slippery slope concern of where Trump might chose to raise a similar issue with another U.S. ally. For instance, when Japanese Prime Minister Shinzo Abe travels to Washington — where he will spend time golfing with Trump — should he expect Trump to suddenly relitigate the issue of alliance burden-sharing?
If there is a useful lessons that rational U.S. allies concerned about the possibility of the United States suddenly withdrawing old commitments can take from this incident with Turnbull, it is that they should avoid interpersonal contact with Trump as much as possible.
This is, naturally, anathema to international diplomacy as it existed in the pre-Trump era, where face time with the U.S. president was an invaluable resource for foreign leaders, but Trump's unpredictability and temperament simply make direct contact with him too risky. Trump, for example, has shown himself consistently unable to take an amicable approach a negotiation and offer concessions; he is simply unable to accept an off-ramp too, which encourages him to double down and act rashly.
The alternative for U.S. partners and allies will be to temporarily downgrade the level of interaction with the United States, sticking to Trump's cabinet. James Mattis, Trump's defense secretary, is an experienced leader with an understanding of the value of existing U.S. commitments. South Korea and Japan will get a taste of how the Trump administration appears at the Mattis-level this week, when he travels to Asia.
Additionally, with Rex Tillerson confirmed as secretary of state, allies can seek diplomatic reassurances from the United States' top diplomat as well. Australians will additionally have familiar faces like U.S. Pacific Command head Admiral Harry Harris for military-to-military interactions.
The new U.S. administration has presented some more difficult challenges for U.S. allies — for instance, figuring out exactly how far Steve Bannon, the ultraconservative ethnonationalist and Trump's chief ideologue, has embedded himself into the United States' national security apparatus — but this is a more obvious problem.
For Australia and other allies, these sorts of interactions with Trump will be jarring and serve as a confirmation that the new U.S. president is precisely what he said he was and what he showed himself to be during the campaign: temperamental, boorish, irascible, and a bully. Existing alliances may be harder to break than one might think, but it's long past time for U.S. allies in Asia to wake up to the unique challenges of dealing with Trump one-on-one.