Free Trade Push: Australia, Indonesia Eye Deal
After a summit meeting, Australia and Indonesia's leader pledge to complete a bilateral deal by the end of 2017.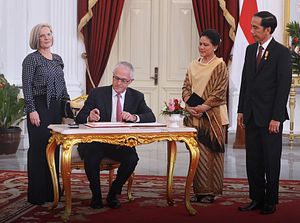 Australia and Indonesia have moved to cement a free trade pact by year-end, an agreement that could help counter protectionist sentiment and smooth a troubled relationship.
In a weekend visit to Sydney, Australia, Indonesian President Joko Widodo agreed with Australian Prime Minister Malcolm Turnbull to complete a bilateral trade pact, the Indonesia-Australia Comprehensive Economic Partnership Agreement (IA-CEPA) by the end of 2017, some seven years after talks began in 2010. The two leaders also committed to strengthening defense cooperation and fighting terrorism.
The move comes after Indonesia's economy, the world's 16th largest, grew by 5 percent in 2016 – among the fastest pace in large emerging market economies – with a pickup to 5.1 percent gross domestic product (GDP) growth predicted by the International Monetary Fund (IMF) for 2017.
Australia, the world's 12th-largest economy, expanded by 2.3 percent in 2016 and is projected by the IMF to post a 2.6 percent expansion in 2017, continuing an economic winning streak that dates back to 1990.
However, trade ties between the two regional neighbors have been relatively lackluster. According to Australia's Department of Foreign Affairs and Trade, two-way trade was only A$15.3 billion (US$11.7 billion) in fiscal 2016, making Indonesia the nation's 13th largest trade partner, with trade dominated by agricultural and energy products. In 2015, Australia had only US$8.4 billion invested in Indonesia, compared to Indonesia's US$1.4 billion in Australia.
Noting that "trade links are strong, but have not yet reached their full potential," the two leaders recommitted to concluding a "comprehensive deal this year" that improves on existing commitments under the ASEAN-Australia-New Zealand trade pact.
Australian farmers have already benefited from the talks, with Indonesia pledging to lower its tariff on Australian sugar in response to Australia removing tariffs on Indonesian pesticides and herbicides. Australian cattle farmers will also gain longer term permits for their exports to Indonesia, a major market for Australian live cattle.
In response, the Indonesian leader stressed the need for Australia to remove barriers on key Indonesian exports such as paper and palm oil.
The two leaders also pledged to combat the threat of foreign fighters returning home from the Middle East, as well as combating people smuggling and enhancing maritime cooperation. Defense ties have also been fully restored, following a row over "offensive" material about West Papua found by Indonesian soldiers training at an Australian military base in Perth.
Importantly for Turnbull's Liberal-National Coalition, the beef and sugar deals are expected to boost support for the Nationals in Queensland state, where they have come under pressure from the protectionist One Nation party.
"Import permits have now been extended from four months to one year. This is great news for both our farmers and exporters as it brings greater stability to the trade and allows for longer-term planning," Deputy Prime Minister Barnaby Joyce told the Australian Financial Review.
In a speech to an Australian business audience, Jokowi noted that his country was enjoying "very good investor sentiment." He pointed to ratings agency Moody's revising its outlook for Indonesian government debt from "stable" to "positive," along with Indonesia's rise in the World Bank's 2017 "Ease of Doing Business" index, from 106th place to 91st in the latest survey (Australia ranked 15th).
However, Jokowi also reportedly told the audience that political challenges remained, including the Jakarta gubernatorial poll, with a demonstration last November forcing the postponement of his planned visit to Australia. According to the Jakarta Post, incumbent Governor Basuki "Ahok" Tjahaja Purnama and his running mate "won by a whisker" in the February 15 poll, which attracted mass protests over a blasphemy scandal. The election saga will continue with a runoff vote later this spring.
Corruption also remains an issue, with Indonesia ranking 90th in the 2016 survey by Transparency International, compared to Australia's 13th. According to Transparency International, "poor performance can be attributed to unaccountable governments, lack of oversight, insecurity and shrinking space for civil society." Indonesia also ranked a lowly 130th on the 2016 "World Press Freedom" index, compared to Australia's 25th.
The IMF also sees risks to Indonesia's economic outlook this year, with external risks including "policies from the new U.S. administration, and the possible impact from China's rebalancing and expected economic slowdown." Internal risks include tax revenue shortfalls or higher interest rates due to tighter global financial conditions.
"Private consumption remains the main driver of growth, but higher inclusive growth will require deeper structural reforms," the IMF's Luis E. Breuer said.
Indonesia: Barriers Remain
Should the two nations ink a trade deal, Indonesia is expected to be the bigger winner. According to a 2009 report by Australia's Center for International Economics, Indonesia could gain a A$33 billion GDP boost over a 20-year period, with Australia adding an extra A$3.2 billion.
These relatively small gains are due to existing trade liberalization under the ASEAN-Australia-New Zealand pact, although it could aid liberalization in a broader range of areas including services and investment, the report said.
Yet according to the U.S. Department of Commerce, Indonesia still maintains numerous trade barriers, including 1,341 tariffs in the agricultural sector alone "at or above 40 percent."
"There are large differences in how regulations are written and applied. Domestic interests often take advantage of the non-transparency of the legal and judicial systems to undermine regulations to the detriment of foreign parties," it said. It also warned that laws granting significant regional autonomy could create the potential for local governments to impose tax or non-tax barriers on inter-regional trade to generate extra revenue.
Indonesia's latest GDP data showed a 4.9 percent expansion in the fourth quarter, slightly below market forecasts for 5 percent, due to weaker government spending. However, rising commodity prices and increased infrastructure investment are expected to boost its economy to 5.4 percent GDP growth in 2017, according to ANZ Research.
Longer term, the merits of Australia becoming more closely integrated with its neighbor appear obvious. A study by information company IHS expects Indonesia to grow GDP by 5 percent a year through to 2020, boosting GDP to exceed $1 trillion, and by 2030, potentially exceeding $3.7 trillion.
Like Australia, Indonesia already has a raft of bilateral trade deals, with its biggest multilateral agreement the ASEAN Free Trade Area along with potentially the Regional Comprehensive Economic Partnership, of which Australia is also a negotiating partner.
Yet with protectionist sentiment on the rise globally, the free trade push by the two democratic leaders should send an important message, coming from the world's most economically dynamic region.