Indonesia-Russia Su-35 Fighter Jet Deal Will Be Signed in 'Coming Months'
Russia continues to push Indonesia to ink an agreement for up to 10 Su-35 combat aircraft.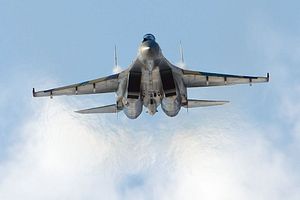 Indonesia and Russia will likely conclude an agreement for the purchase of up to 10 Russian-made Su-35S multirole fighter jets for the Indonesia Air Force (TNI-AU) in the near future, according to a senior Russian defense industry representative.
"We hope that the contract for Su-35 aircraft will be signed in the imminent future. I believe it will be signed in the coming months," the director for international cooperation and regional policy at Rostec, Viktor Kladov, told TASS news agency on February 17.  Rostec is Russia's largest state-owned defense industrial conglomerate.
For the past two years, Russian officials have repeatedly announced that a deal for up to ten Su-35 (NATO reporting name: Flanker-E) fourth++ generation, twin-engine, highly maneuverable multirole fighter jets was close to be being signed. However, so far, Russia apparently has made little headway as Indonesia is dragging its feet over the aircraft deal and is still considering alternatives to Russian military hardware.
As I reported previously, Indonesia and Russia kicked off negotiations over a possible aircraft deal in late 2015:
 A joint military-technical cooperation commission began talks in late in November 2015 in Jakarta to discuss details of the contract, including technological transfers. (Indonesian law stipulates that at least 35 percent of the aircraft's technology needs to be transferred to the country as part of the defense deal.)
Apart from that, little other details are known about the content of the agreement and the status of bilateral negotiations. It also remains unclear how many Su-35 aircraft the TNI-AU intends to procure. I explained:
First, Indonesia considered buying 16 new warplanes. This number went down to 10 as talks progressed. According to press reports, both sided eventually settled on eight, with an option of procuring two additional Su-35s in the future. The contract under negotiation also includes pilot training and knowledge transfers through a military exchange program.
The TNI-AU already operates a number of Russian aircraft, including 11 Su-30s and five Su-27s. The Su-35s would replace obsolete U.S.-made F5 E/F Tiger II jet fighter jets, which had been in service with the TNI-AU since the 1980s and were retired over the last years.  The Indonesian Air Force also operates 14 more advanced F-16A/B combat aircraft and is slated to receive ten more by the end of 2018.
As The Diplomat reported in January 2017, Indonesia's new Air Force chief, Air Marshal Hadi Tjahjanto, made it clear that no selection has been made so far.  The TNI-AU is still considering Western models including the SAAB JAS39 Gripen from Sweden and a more advanced variant of the F-16 Fighting Falcon combat aircraft. In total, the TNI-AU intends to procure at least 16 new fighter jets for an estimated $1.5 billion.