Indonesia, Russia Have Finalized Contract for Delivery of Su-35 Fighter Jets
The final contract is to be inked this year, according to a senior Russian defense industry official.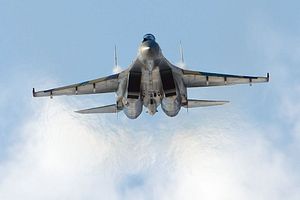 Indonesia and Russia purportedly have finalized a contract for the procurement of an unknown number of Russian-made Su-35S 'Flanker-E' multirole fighter jets for the Indonesia Air Force (TNI-AU), according to Russian media reports.
"Prior consent has been reached on the contract to deliver Su-35 to Indonesia, it will be (signed) this year," said Viktor Kladov, the director of Rostec's international cooperation and regional policy department, on June 6, according to TASS news agency.
Indonesian officials have so far not confirmed that a deal has been reached. Over the past two years, Russian defense industry officials have repeatedly announced that the signing of a final contract was imminent only to find the Indonesian government holding up the conclusion of the agreement for various reasons including disagreement over offset obligations and technology transfers.
As my colleague Prashanth Parameswaran explained back in May, "in truth such technical issues are also only one part of an often complex story than tends to characterize big-ticket Indonesian defense acquisitions, which are in turn tied to the broader structural and institutional challenges that the country's military modernization faces as well as the choices that it ultimately makes."
The TNI-AU purportedly intends to procure eight to ten Su-35 fighter jets. Indonesia and Russia started negotiations over a possible aircraft deal already in late 2015, as I explained:
A joint military-technical cooperation commission began talks in late in November 2015 in Jakarta to discuss details of the contract, including technological transfers. (Indonesian law stipulates that at least 35 percent of the aircraft's technology needs to be transferred to the country as part of the defense deal.)
The TNI-AU has so far not publicly confirmed how many aircraft it intends to purchase, although the Indonesian Defense Minister Ryamizard Ryacudu said in 2016 that the Ministry of Defence (MoD) was mulling the procurement of eight warplanes. There has been considerable back and forth over the exact number of aircraft to be sold during over the last two years, as I noted elsewhere:
First, Indonesia considered buying 16 new warplanes. This number went down to 10 as talks progressed. According to press reports, both sided eventually settled on eight, with an option of procuring two additional Su-35s in the future. The contract under negotiation also includes pilot training and knowledge transfers through a military exchange program.
Indonesian officials repeatedly said that no selection has been made:
[I]n January 2017, Indonesia's new Air Force chief, Air Marshal Hadi Tjahjanto, made it clear that no selection has been made so far.  The TNI-AU is still considering Western models including the SAAB JAS39 Gripen from Sweden and a more advanced variant of the F-16 Fighting Falcon combat aircraft. In total, the TNI-AU intends to procure at least 16 new fighter jets for an estimated $1.5 billion.
During the visit of a Russian delegation to the Indonesian Ministry of Defense in May, Indonesian defense officials said that the Su-35 fighter jet is still under evaluation by the ministry's procurement team.