Japanese Defense Minister: Military 'Will Not Be Sent' to the South China Sea Alongside US
Inada reiterates Japan's standing policy to not involve its forces in the South China Sea beyond training missions.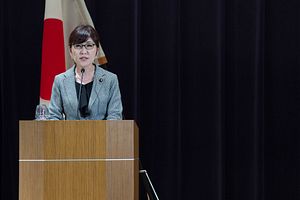 Speaking on Sunday, at the conclusion of U.S. Defense Secretary James Mattis' two-day visit to Japan, Japanese Defense Minister Tomomi Inada said during a television interview that Japan's Self-Defense Force (SDF) would not deploy to the South China Sea with the United States Navy.
"I told Secretary Mattis that Japan supports the U.S. military's freedom of navigation operation in the sea," Inada said on Sunday, according to Japan's Jiji news agency, citing comments by Inada during the interview. "But the SDF will not be sent to the area," Inada clarified.
"Japan will play its role through defense cooperation and training," she added. Japan, while an interested observer in the South China Sea disputes and a supporter of international law and the peaceful settlement of disputes, has not carried out operations in the area outside of training and drills.
Inada's remarks don't represent any novelty in Japan's approach to the South China Sea disputes and the SDF's involvement in the area.
In a September 2016 address in Washington, D.C., Inada laid out three primary ways in which Japan would seek to grow its involvement in the region. Direct military involvement or patrols were not on the list, which included "Maritime Self Defense Force joint training cruises with the U.S. Navy, bilateral and multilateral exercises with regional navies, as well as providing capacity building assistance to coastal nations."
"I would like to underline my government's resolve to protect our territorial integrity and sovereignty," Inada had said then. "To this end, we will continue our own defense efforts and also maintain and enhance the Japan-U.S. alliance."
China has rejected any role for Japan, with its envoy to Japan telling Japanese officials that any SDF participation in U.S.-led freedom of navigation operations would cross a "red line."
"We are firmly opposed to Japanese attempts to send its self-defense forces to join the so-called Freedom of Navigation operations by the U.S. in the South China Sea," Colonel Wu Qian, spokesperson for the Chinese Ministry of National Defense, further clarified last August.
The Japanese Maritime Self-Defense Force (MSDF) and the U.S. Navy held their first joint exercise in the South China Sea in October 2015.