Singapore-New Zealand Defense Ties in Focus With Military Exercise
The drills highlighted an aspect of their military relationship amid ongoing challenges.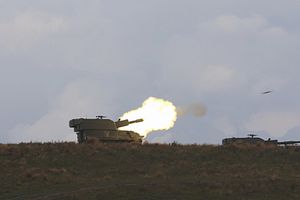 Earlier this month, Singapore and New Zealand kicked off the latest iteration of a key military exercise that dates back over two decades. The interaction spotlighted the ongoing defense activity within the bilateral relationship as both sides look to manage the mix of opportunities and challenges therein.
As I have observed previously in these pages, Singapore and New Zealand have a defense relationship that dates back decades, with both joining the Five Power Defense Arrangement (FPDA) back in 1971 along with the United Kingdom, Australia, and Malaysia. New Zealand is also among list of important partner countries where land-starved Singapore sends its military for training opportunities.
Over the past few years, the scope of bilateral defense collaboration between Singapore and New Zealand has expanded in various areas across the board, including dialogue, education, and training. This is despite some occasional challenges that remain, as evidenced by the case of the recently nixed proposal for a training facility at Ohakea Air Base that was officially confirmed by Singapore earlier this month.
One of the manifestations of the bilateral defense relationship has been Exercise Thunder Warrior, an integrated live-firing exercise held between the two countries. The first iteration of Exercise Thunder Warrior was held between the Singapore Armed Forces (SAF) and the New Zealand Defense Force (NZDF) back in 1997.
Earlier this month, both sides commenced this year's iteration of Exercise Thunder Warrior. The exercise, held at the Waiouru Training Area in New Zealand, kicked off on January 5 as scheduled and is expected to go on until February 2.
This year's iteration of the exercise consisted of similar components, activities, and personnel numbers for both sides. On the Singapore side, according to Singapore's defense ministry (MINDEF), this iteration of the exercise involved more than 500 personnel from the 268th and 24th Battalions, Singapore Artillery, and the exercise also featured several components of Singapore's military equipment.
In addition to the usual components of the exercise, this iteration also saw a visit from defense officials from both sides. Per MINDEF, Singapore Senior Minister of State for Defense Heng Chee How and New Zealand Minister of Defense Ron Mark, who had held bilateral consultations beforehand, visited the exercise on January 15 and observed an integrated battalion live-firing exercise involving the Singapore self-propelled howitzer, weapon locating radar, and the field artillery meteorological system.
After witnessing the live-firing, Heng reportedly reinforced the importance of the training that Singapore is able to conduct in New Zealand, noting that the SAF is able to hone its capabilities and strengthen operational readiness. He also expressed his appreciation for New Zealand for its continued support in this regard for the opportunity within the wider bilateral relationship between both countries.