The Future of China-US Relations in the Trump Era
How will the Trump administration influence US-China ties in the political, economic, and security spheres?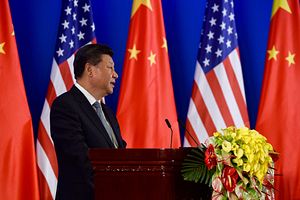 This piece was published in collaboration with Dunjiao (formerly Consensus Net). A Chinese-language version can be viewed here. 
How will China-U.S. relations evolve in the new Trump era? Let us take a look at the three key aspects of China-U.S. relations: political, economic, and security factors.
Political
This is the realm of values: ideology, social systems, and human rights. For a long time, it has been difficult for China and the United States to adjust and compromise with regards to their key political interests – the source of most of their conflicts. Although China partially introduced a market economy following its "reform and opening up" policy in 1978, this was no more than a pragmatic move to save the regime.
China's opening up came as a relief to the United States, which at first perceived China's rise as peaceful. However, a more powerful and assertive China is now employing its own methods to challenge U.S. leadership in the Asia-Pacific, which has been in place since the end of World War II. This has caused the United States to be increasingly concerned over China's rise. Be it the Obama administration's "pivot to Asia" policy or the Trump administration's "America First" slogan, it is clear that the United States in the 21st century has formed a national consensus in perceiving China as the greatest challenge to its superpower status.
However, American administrations in the past have adopted different approaches when engaging with China on ideological issues. Take the Chen Guangcheng case, for example. While Obama sent then-Secretary of State Hillary Clinton over to Beijing to ask the Chinese authorities to hand over Chen, a Trump administration that gives higher priority to economic interests may not take a hard line should it be presented with a similar scenario. This may come as good news to Beijing.
Economy and Trade
Trade between China and the United States has been disproportionate. The difference of import prices between the two countries in recent years varied between 1:3 and 1:4. The United States levies an import tax of 2-3 percent, while China's import tax is 3-9 percent. From the U.S. point of view, although as a World Trade Organization member China has not openly violated any WTO trade rules, its continuous mercantilist policies has resulted in a trade disadvantage for the United States. The Obama administration's response to this was to create a regional free-trade framework that excludes China, the Trans-Pacific Partnership (TPP). Trump on the other hand does not want to further expose the U.S. market to its trade partners even for the sake of restricting China's exports. Trump would rather take on China directly by negotiating a bilateral trade deal under the name of 'free trade.'
Although Trump has recently made good on campaign-trail promises to quit TPP and seek to renegotiate NAFTA, he has not expressed any intention to quit the WTO. As a matter of fact, opting out of the WTO would bring calamity to the United States as the world's largest trading entity. As long as the United States remains a WTO member, trade disputes between China and the United States can be delegated to arbitrary mechanisms within WTO. This would require both countries to relinquish part of their sovereignty over international trade. Third-party mediation has become an effective way in resolving international trade disputes, and it is hard to see why Trump should give up arbitration.
Economic and trade friction between China and the United States is expected to intensify under the Trump administration, but such tensions may eventually stabilize after a certain period of time, if both sides are willing to make concessions through negotiation. Neither party would be completely satisfied at the compromise over their economic interests, but both should still be able to accept the results.
Security
During his campaign, Trump downplayed the importance of military alliances and showed a willingness to downsize the U.S. military presence around the world. Should this materialize, it would play into the hands of China, which sees military alliances as a relic from the Cold War era. China is generally skeptical toward all military alliances led by the United States, such as the U.S.-Japan alliance, the U.S.-South Korea alliance and NATO.
Now that he is in power, however, Trump may contradict his own views and try to maintain bilateral military alliances in the Asia-Pacific, following the example of Obama. First of all, while Japan and South Korea may bargain with the Trump administration, as it is impossible for them to sever their military ties with the United States. Second of all, the American system has its own checks and balances. Under such a system, the political elite will not allow the Trump administration to weaken the U.S. military presence around the world, an effective instrument in maintaining its global hegemony over more than seven decades.
If China is to continue its military engagement in the East and South China Sea, and if China and the United States are not able to strike a compromise over economy and trade friction, Trump may pursue a military strategy in the Asia-Pacific even more aggressive than that of the Obama administration. If neither party acts prudently, China and the United States may plunge into an open arms race, and China may replace the Soviet Union/Russia to become the foremost enemy of the United Sates in the eyes of the American elite establishment. This would be extremely disadvantageous for China. In such a scenario, U.S.-Taiwan ties may dramatically improve, making the Taiwan issue more complicated for China.
Shen Dingli is Professor and Vice Dean at the Institute of International Studies, Fudan University.