US Carrier Strike Group Arrives in the South China Sea
The U.S. Navy now has two supercarriers deployed to the Asia-Pacific region.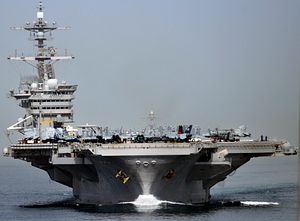 A U.S. Navy carrier strike group has started patrols in the South China Sea. Carrier Strike Group 1, led by the Nimitz-class supercarrier USS Carl Vinson, arrived in the area last week, accompanied by vessels including an Arleigh Burke-class guided-missile destroyer, the USS Wayne E. Meyer. According to the U.S. Navy, the group began "routine operations" in the South China Sea.
The Carl Vinson strike group's arrival in the South China Sea brings the United States' carrier presence in the Asia-Pacific up to two groups. The USS Ronald Reagan is permanently forward deployed with the U.S. Seventh Fleet at Yokosuka, Japan.
Before arriving in the South China Sea, the USS Carl Vinson strike group participated in training exercises near Hawaii and Guam, and conducted operations in the Western Pacific. "The training completed over the past few weeks has really brought the team together and improved our effectiveness and readiness as a strike group," said Rear Adm. James Kilby, commander of the strike group.
"We are looking forward to demonstrating those capabilities while building upon existing strong relationships with our allies, partners and friends in the Indo-Asia-Pacific region," he added, according to a U.S. Navy statement.
The U.S. carrier strike group arrives in the South China Sea amid growing expectations that the Trump administration will intensify U.S. operations in the area, where China, Vietnam, the Philippines, Malaysia, Brunei, and Taiwan are mired in disputes over maritime entitlements and islets. The United States has no territorial claims in the region, but supports free navigation for civilian and military vessels alike.
As I discussed earlier this month, the new carrier strike group may serve as a vector for expanded U.S. freedom of navigation operations (FONOPs) in the South China Sea. The Obama administration carried out four FONOPs in the South China Sea after China began constructing seven artificial islands in the Spratly group.
Asked about possible oncoming FONOPs in the South China Sea by ships associated with the Carl Vinson strike group, Geng Shuang, a spokesperson for the Chinese foreign ministry said that China "[urged] the US to refrain from challenging China's sovereignty and security and to respect regional countries' efforts to maintain peace and stability in the South China Sea."
The most recent FONOP was carried out by the USS Decatur, an Arleigh Burke-class destroyer, on October 21, 2016, near China-occupied features in the Paracel Islands.