US, Japan Practice Defending Ryukyu Islands
The U.S. Marine Corps and the Japan Ground Self-Defense Force kicked off their annual Iron Fist Exercise this week.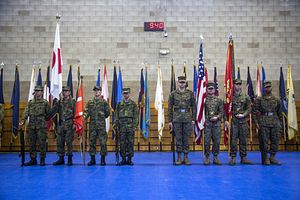 On Monday, the U.S. Marine Corps and the Japan Ground Self-Defense Force launched the 12th iteration of the amphibious warfare exercise Iron Fist 2017, held at Camp Pendleton and San Clemente Island in southern California.
The exercise involves 500 U.S. Marines of the 13th Marine Expeditionary Unit and around 350 soldiers of the Japanese Ground Self-Defense Force's Western Army Infantry Regiment. According to a U.S. Pacific Command press release, the exercise will include "advanced marksmanship, amphibious reconnaissance, landing, and assault operations."
The exercise is specifically designed to conduct combined amphibious warfare operations at the platoon, company, and battalion levels.
This year, a major emphasis will be laid on training Japanese soldiers in the use of the Assault Amphibious Vehicles (AAV) 7, designed for assaults on shorelines. It can transport both naval infantry — up to 24 marines — and cargo. As I reported elsewhere, Japan is expected to receive a total of 30 new AAVs by the end of this year.
"We have a lot to learn from this, especially the combined arms combat operations and we are ready to learn from the Marines here at Camp Pendleton," said Japanese Colonel Ryuji Toyota, the commanding officer of the Western Army Infantry Regiment. As I reported last January, Japan intends to stand up a new amphibious warfare brigade in 2017:
The initial size of the brigade will be around 2,000 troops, but this is slated to increase to 3,000 once the force becomes fully operational sometime in 2018. The new brigade's principal mission will be to defend the 6,000 islands and islets of the Ryukyu Islands chain, which stretches southwest from Kyushu to Taiwan.
The Western Army Infantry Regiment, based in Sasebo in Nagasaki Prefecture, is the nucleus of this unit, I explained:
 Seven hundred troops of the light infantry regiment are currently charged with defending the remote islands. However, the establishment of the new unit has been plagued by inter-service rivalry, budgetary constraints, and the Japan Self-Defense Force's traditional problem of a lack of inter-service coordination, which, given that any amphibious warfare operation will require all three services to cooperate, may prove particularly problematic.
"The (…) Western Army Infantry Regiment is helping to shape an amphibious readiness defense brigade," said Chandler Nelms, the 13th Marine Expeditionary Unit commanding officer. "The Marine Corps is the only amphibious arm of the United States military that has expertise in amphibious operations."
Japan is slowly transforming its military into a lighter and more mobile force. The Japanese Ministry of Defense's 10-year National Program Guidelines allocated 23.97 trillion yen ($199.5 billion) between 2014 and 2018 toward propping up the Japan Self-Defense Force's amphibious warfare capabilities.
The Iron Fist 2017 exercise will conclude on March 6.