US, Japan Kick off Joint Military Exercise
The U.S. Marine Corps and the Japan Ground Self-Defense Force kicked off their annual Iron Fist Exercise on January 12.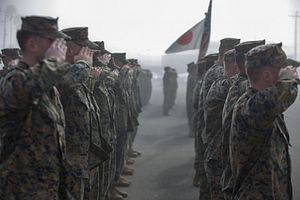 Last week, the U.S. Marine Corps and the Japan Ground Self-Defense Force (GSDF) launched the 13th iteration of the amphibious warfare exercise Iron Fist 2018, held at Camp Pendleton and San Clemente Island in southern California.
The exercise, which kicked off on January 12, involves around 500 U.S. Marines and sailors of the 11th Marine Expeditionary Unit and around 350 soldiers of the Japanese Ground Self-Defense Force's Western Army Infantry Regiment. Iron First is expected to conclude on February 12.
The five-week long bilateral drill will focus "on advanced marksmanship, amphibious reconnaissance, fire and maneuver assaults, staff planning, logistical support, medical knowledge sharing, fire support operations, including mortars, artillery and close air support, and amphibious landing operations," according to a U.S. Marine Corps press release.
The major emphasis of the exercise will be on combined amphibious warfare operations at the platoon, company, and battalion levels. The "culminating training event" will be a joint amphibious assault.
"It is essential that U.S. Marines and sailors maintain our strong working relationships with our Japanese military partners and continue building our mutual understanding of each other's amphibious capabilities," said Colonel Fridrik Fridriksson, the commanding officer of the 11th Marine Expeditionary Unit.
This year's exercise will be a bit more complex than Iron Fist 2017, Fridriksson told USNI News last week. "There will be a little bit more combined arms, there will be a little bit more live fire, and it will be a little bit more technical… This is really designed to support the Japanese and do what they want to do."
As I reported previously, Japan intends to stand up a new amphibious warfare brigade by April 2018:
The initial size of the brigade will be around 2,000 troops, but this is slated to increase to 3,000 once the force becomes fully operational sometime in 2018. The new brigade's principal mission will be to defend the 6,000 islands and islets of the Ryukyu Islands chain, which stretches southwest from Kyushu to Taiwan.
The Western Army Infantry Regiment, based in Sasebo in Nagasaki Prefecture, is the nucleus of this new unit, as I noted:
 Seven hundred troops of the light infantry regiment are currently charged with defending the remote islands. However, the establishment of the new unit has been plagued by inter-service rivalry, budgetary constraints, and the Japan Self-Defense Force's traditional problem of a lack of inter-service coordination, which, given that any amphibious warfare operation will require all three services to cooperate, may prove particularly problematic.
Lack of inter-service coordination remains one of the biggest challenges for the Japanese military. "One of the shortcomings is that GSDF and MSDF [Japan Maritime Self-Defense Force] are not coordinating their efforts the way they should," a former U.S. liaison officer in Japan told USNI News last week. "It's kind of done in parallel, and that's the wrong way to do things. Look around at Iron Fist and ask where the MSDF is."