What's Next for Russia-Philippines Military Ties?
A closer look at the next steps both sides are considering.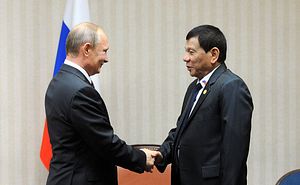 Over the past few months, much ink has been spilled about a potentially burgeoning defense relationship between the Philippines and Russia amid President Rodrigo Duterte's stated desire to diversify his country's relationships away from its traditional ally, the United States (See: "The Limits of Duterte's China-US Rebalance").
But as I've noted before, for all the column inches devoted to the Russia-Philippine defense relationship, we have yet to see the rhetoric from both sides translate to reality. Part of this is because it is early days, and we have not had a much-anticipated summit meeting between Duterte and his Russian counterpart Vladimir Putin later this year which could catalyze some new deliverables. But it is also due to the fact that there are some limits inherent in strengthening ties on the defense side (See: "The Limits of Russia-Philippines Military Relations").
What, then, can we expect from the Russia-Philippines defense relationship in 2017 and beyond? Equipment-wise, indications from Russian and Philippine defense officials are that both sides are still working out what is possible in line with what Russia is offering and what the Philippines needs. Moscow has offered Manila a long list of things – from arms all the way to aircraft and submarines – and has been marketing them quite aggressively. But there are also issues on the Philippine side, whether it be pricing or interoperability.
During a press conference last week, Philippine Defense Secretary Delfin Lorenzana shed some more light on what we might see more specifically. He said that the Philippine military was especially interested in specialized rifles (as opposed to regular ones which it already has) and perhaps some unmanned aerial vehicles (UAVs) or drones as they are more popularly known as.
He also emphasized that the Philippines would buy equipment in line with its existing modernization plan (See: "The Truth About Philippine Military Modernization and the China Threat"). "We will look into that because we should buy in accordance with our modernization plan… We will buy smart," he said.
Beyond equipment, another item that has sparked interest has been the potential inking of an agreement between the two countries on military-to-military ties. As I have pointed out before, despite the sensationalism that we have seen about a new defense pact, the memorandum of understanding (MoU) in question is one that was already discussed between the two sides under Duterte's predecessor Benigno Aquino III (See: "A New Russia-Philippines Military Pact?").
Lorenzana told reporters that the MoU, which Manila expects to sign with Moscow during Duterte's scheduled visit to Russia, would cover things like personnel exchanges, visits, and the observing of exercises. But he once again emphasized that while observing of exercises could occur under the MoU, joint exercises would have to be discussed separately.
That further confirms that the agreement would be rather modest. More broadly, it is also a reminder that even though there remains much potential for Russia-Philippines defense relations, realizing this will likely be more difficult and take much longer than the headlines suggest.