Russia-Philippines Defense Ties to Get a New Boost
Both sides are expected to make some inroads in this realm despite the limits that remain.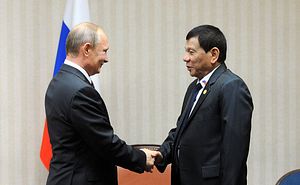 Last week, Philippine President Rodrigo Duterte disclosed that Moscow would be donating some defense material to the Philippines later this month. The transfer, if it occurs as scheduled, will mark part of what is expected to be a bigger October boost for Russia-Philippines military ties.
As I have repeatedly pointed out, though the Philippines had never really been a significant defense partner for Russia in the past, particularly given Manila's decades-long alliance with the United States, defense ties have been in the spotlight under Duterte's tenure. The Philippine president has been looking to diversify his country's ties away from Washington and toward other countries, including Beijing and Moscow (See: "The Limits of Russia-Philippines Military Relations").
Thus far, even if there continue to be some limits to ties in this realm and the reality often significantly lags behind the rhetoric, in terms of Philippine-Russia defense ties, we have seen some positive developments. That includes the conclusion of a new military pact by both sides during Duterte's Russia visit in June and the observation of a military exercise in Russia by a Philippine military delegation in September (See: "Where Are Russia-Philippines Defense Relations Under Duterte?").
These developments were discussed in a meeting between Philippine Ambassador to Russia Carlos D. Sorreta and Russian Deputy Defense Minister Alexander Fomin at the Russian defense ministry on September 22. On the Russian side, the representatives also included officials from the Federal Service on Military and Technical Cooperation and Rosoboronexport.
October is set to see a new boost for bilateral defense ties. Russian Defense Minister Sergei Shoigu will be in the Philippines for the ASEAN Defense Ministers Meeting Plus (ADMM-Plus) as well as a return bilateral visit following Philippine Defense Secretary Delfin Lorenzana's Moscow trip last December. Sorreta has said that both sides expect to soon sign an agreement to further establish the legal framework for defense agreement as well as have some "substantial developments" in the area of defense transfers.
Last Wednesday, Duterte indicated what this might look like when he disclosed that Russia would provide weapons to the Armed Forces of the Philippines (AFP) later this month. The transfer, Philippine defense officials said, is expected to take place on October 25, during the visit of a Russian vessel, and will include Kalashnikov rifles, ammunition, as well as military trucks.
If it occurs as scheduled, this would be the third such visit by a Russian vessel, following two visits by Russian warships to the Philippines earlier this year. And together with the defense transfers that are expected to occur, they will no doubt make the headlines not just in the context of the bilateral relationship itself, but in terms of its significance for Duterte's so-called "independent" foreign policy, as we have seen with China as well (See: "What's in the New China Military Aid to the Philippines?").
This is despite the clear limits that remain for the Russia-Philippine defense relationship even as we see these occasional advances. And, perhaps equally if not more significantly, we should not overlook the quieter gains that we have seen in Manila's traditional partnerships, most notably with the United States, despite Duterte's rhetoric (See: "What Will US-Philippines Military Exercises Look Like in 2018?").