Call Me, Dushanbe: Telia Wants Out of Tajikistan
Getting out of the Eurasian market is proving to be troublesome.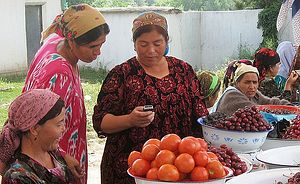 In September 2015, the Swedish-Finnish telecommunications company then known as TeliaSonera (now going by the name Telia Company) announced that it would be plotting its exit from the entire Eurasian market. The company said at the time that it would look to sell off its local iterations in Azerbaijan, Georgia, Kazakhstan, Moldova, Nepal, Tajikistan, and Uzbekistan.
At the time, the company's President and CEO Johan Dennelind said,"We realize that this will be a complex task that will take time. We are conducting this process market by market as each country and operation has its unique situation, but the ambition is to eventually leave the entire region."
Telia had been hard-hit by a bribery scandal stemming from Uzbekistan and faced other difficulties around the Eurasian region. But getting out of the market seems to be as troublesome as remaining.
On January 17, Telia published a press release announcing that its Tajik subsidiary, Tcell, would be appealing "what is considered to be an illegal tax claim" made by the Tajik government.
Last September, Telia signed an agreement to sell its 60 percent controlling share in Tcell (well, in Central Asian Telecommunications Development B.V.CATD, which controls CJSC "Indigo Tajikistan" (Tcell) to be technical about it ) to the Aga Khan Fund for Economic Development (AKFED), which held the other 40 percent.
According to Telia, Dushanbe was basing their tax claim "on revenue that Tcell has never generated, so called 'un-realized revenue.'" Should Tcell lose its appeal, Telia says it "would put very severe financial strain on Tcell."
Meanwhile, the agreement to sell its share in the company has seemingly stalled in Tajik bureaucratic limbo.
Telia says that when the agreement was signed back in September 2016, the transaction was expected to close by the end of the year, "subject to necessary regulatory approval."
"Currently it is difficult to project when that will happen," the January 17 press release notes, "as the time period for the necessary approval has expired without any clear response from the relevant authority."
Despite this obvious poke, it seems Telia has still not heard back from Dushanbe in a meaningful way. A press release on February 28 publicized the company's direct request to the Prime Minister of Tajikistan, Kokhir Rasulzoda, for a meeting. In an open letter, Telia Company President and CEO Johan Dennelind wrote to draw attention to "the very difficult situation that he Tajik mobile operator Tcell finds itself in." Tcell, he writes, "is not alone in its plight."
"As you will be very well aware of, many internationally owned companies are facing a difficult judicial and regulatory situation in Tajikistan."
Dennelind's letter categorizes the tax troubles faced by Tcell as "a consequence of a deteriorating business environment."
With regard to the selling of Telia's Tcell share to AKFED, Dennelind's letter notes that the closing is subject to approval by the Tajikistan Anti-Monopoly Commission, but that the company has "not received a clear response" to its application, despite the fact that the "legislated time period lapsed on November 29,2016."
"We find it unworthy and unsustainable that a decision of this importance is delayed without a formal response citing credible reasons," Dennelind writes.
In closing, Dennelind throws in a parting shot: "[t]he state owned operator Tajik Telecom is not paying its debt to Tcell."
In sum: Telia wants desperately to get out of Tajikistan, but in the meantime state pressure by way of inflated taxes and non-payment of debts are creating an extraordinary burden on Tcell, and therefore Telia. It's unclear when (or if) Telia will receive a response from the prime minister, or when (or if) Tajik authorities will make a decision on the sale of the company's Tcell shares. In the meantime, the Tajik market looks less and less appealing to international firms and Dushanbe like a fickle partner.