Telia Declares Deal to Sell Tajik Stake Invalid
Thanks to Tajik government inaction, Telia remains mired in Tajikistan.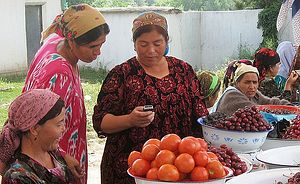 A year and a half ago, TeliaSonera (now known as Telia Company) declared its intention to exit the Eurasian market. Leaving the region has proven difficult, however.
The sale of Telia's share in the Tajik mobile operator Tcell hit another snag this week. Monday, Telia announced that the deal to sell the company's 60 percent share to the Aga Khan Fund for Economic Development (AKFED), which already holds the other 40 percent, is no longer valid. The agreement was made in September 2016, but the sale was contingent on the Tajik government's anti-monopoly service assessing and accepting the sale.
"We have taken all relevant actions in trying to close the deal," Emil Nilsson, head of Telia's Eurasia region, said in a statement Monday. "The proposed buyer of our interest in Tcell, AKFED, is an established investor in the region with multiple companies in its current portfolio and a long history in Tcell. We are now assessing alternative ownership solutions for Tcell."
It seems Telia's efforts to engage the Tajik government have come to naught.
In mid-January, Telia announced that Tcell was appealing what the company termed an "illegal tax claim" that had been levied by Dushanbe.
In late February, Telia announced it was seeking a meeting with the Tajik prime minister. The company published an open letter it had sent to the Tajik authorities to draw attention to "the very difficult situation that the Tajik mobile operator Tcell finds itself in."
In its latest press release relating to Tajikistan, Telia says that the Tajik operations "are reported as discontinued operations and the book value of Telia Company's interests has been adjusted to zero." In the deal with AKFED, the "agreed price for Telia Company's interest was approximately $13 million in equity value."
In Telia's 2016 year-end report, company President and CEO Johan Dennelind said it was "highly probable" that the company would dispose of its Eurasia assets in 2017.
So far, of the company's many Eurasian holdings, Telia has only been able to sell its business in Nepal.
The company's business in Azerbaijan, Kazakhstan, Moldova, and Georgia are held through a subsidiary, Fintur Holdings B.V. Fintur is a joint venture with Turkey's largest mobile operator, Turkcell, which was in the process of buying out Telia's 59 percent controlling stake share in early 2016. But the negotiations ran into trouble as Turkcell executives worried that Fintur could become the target of investigations, Bloomberg reported last summer. Anonymous sources told Bloomberg that while there was no evidence of probes into Fintur, Turkcell viewed the potentiality as a risk.
Nevertheless, Dennelind, in Telia's year-end report, said, "When it comes to the disposal of Fintur Holdings, we have seen an increased interest in our assets following the decision to explore a joint divestment of Fintur Holdings together with Turkcell."
And then there's Telia's business in Uzbekistan, Ucell. In the year-end report, Dennelind acknowledged that "the timing of the sale of Ucell asset is the most difficult to predict."
Telia, he said, continues "to have a constructive dialogue with the U.S., Dutch and Swedish authorities in their respective investigations and have an active dialogue regarding the proposed settlement of $1.45 billion… Our ambition is to close this in a responsible way and in the best interest of our shareholders."