China's Premier Li Tours Australia, New Zealand
Economics topped the agenda, as usual for China-Australia and China-New Zealand ties.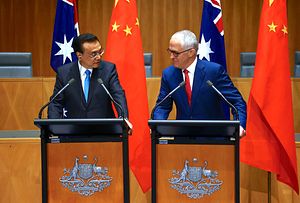 Chinese Premier Li Keqiang is Down Under this week, with lengthy stays in both Australia and New Zealand. Li was in Australia from March 22 to 26 before heading to New Zealand, where he is scheduled to remain until March 29.
Given's Li's position – the Chinese premier is nominally responsible for the country's economic affairs – there was no question that these visits would be primarily focused on economics. Australia Prime Minister Malcolm Turnbull's expectations made that clear: "This visit will highlight Australia's strong economic relationship with China and our mutual commitment to encouraging trade and investment in our region," he said in a statement ahead of Li's arrival.
Australia is one of several countries in the Asia-Pacific region dependent on China economically and the U.S. for security. It can be a tough position to be in, as exemplified recently by China's economic retaliation against South Korea for deploying a U.S. missile defense system on the Korean Peninsula. The recent election of Donald Trump as U.S. president sparked a particularly intense round of soul-searching in Australia about how to balance the U.S.-China-Australia triangle – especially after a disastrous early phone call between Trump and Turnbull.
One side of the debate holds that Australia should grow closer to China and reduce dependence on the United States. That was the view expressed by Stephen FitzGerald, Australia's original ambassador to China, in a speech just ahead of Li's visit.  "We are living in a Chinese world," FitzGerald said, according to the New York Times. "But we don't have a relationship to match it."
The Australian government, however, seems content to keep the status quo: expanding economic cooperation with China with limited convergence on security or political issues. Accordingly, the biggest takeaway from Li's visit was an agreement for China and Australia to start talks on upgrading their existing free trade agreement. Turnbull also announced that his government had secured an agreement providing further access to the Chinese market for Australia's meat producers.
A similar FTA announcement came out of Li's meeting with New Zealand Prime Minister Bill English. In an interview with Xinhua, English said upgrading New Zealand's FTA with China was "the top priority" for his country.
Those announcements take on a larger significance in the current environment, where globalization and free trade are under increasing scrutiny. Trump, for example, withdrew U.S. participation from the 12-nation Trans-Pacific Partnership, which also included both Australia and New Zealand, and has promised to renegotiate existing trade pacts. China, Australia, and New Zealand made a point of combating this trend by not only championing but actually doubling down on the benefits of their free trade agreements – and, by extension, globalization writ large.
According to a press release from Turnbull's office, Australia and China both reiterated their "commitment to an open world economy" and "committed to advancing global and regional trade and investment liberalization through the WTO, APEC, and Regional Comprehensive Economic Partnership [RCEP]." Both China and Australia, along with New Zealand, are involved in the ongoing negotiations over RCEP, a free trade agreement that would include all 10 members of the Association of Southeast Asian Nations (ASEAN) as well as the six countries with existing FTAs with ASEAN.
Li struck a similarly positive tone regarding economic negotiations with New Zealand, writing in an op-ed for the New Zealand Herald, "This is great news not just for our countries, but also sends a positive signal of support for trade and investment liberalization and facilitation."
On another economic issue close to China's heart, Li will be returning home with mixed results. Since its announcement in fall of 2013, the Belt and Road initiative (also known as "One Belt, One Road" or OBOR) has become the centerpiece of Chinese foreign engagements. Nearly every country across the world can fit somewhere within the overarching rubric of infrastructure and trade connectivity, so Chinese leaders push the concept wherever they go. However, concerns about the security implications of Chinese-led infrastructure projects in strategic regions (such as the Indian Ocean or Gulf of Aden) have led some countries to look warily on OBOR.
Australia, despite its close economic ties to China, is not quite ready to embrace the Belt and Road. Ahead of Li's visit, Reuters reported that no official agreements would be signed linking Canberra to the project. One source told Reuters that the Australian government had adopted a "wait-and-see" approach, given reluctance from other Western capitals about joining the project. Sure enough, while several of the deals signed during Li's visit to Australia could have fallen under the admittedly wide OBOR framework (including Chinese participation in the Balla Balla port and rail project, which will connect iron ore mines to the global market), the Australian government statement made no mention of the Belt and Road.
New Zealand, however, was willing to take the plunge. During Li's visit, the two sides signed an agreement to cooperate on OBOR. According to CCTV, New Zealand became the first developed Western country to do so – a familiar position for Wellington, which was also the first Western country to sign a bilateral FTA with China, give China market economy status, and join the Asian Infrastructure Investment Bank (AIIB).
Aside from economics, there were some brief forays into strategic issues, including the ever-thorny question of the South China Sea disputes. Both Australia and New Zealand have expressed concern about the future of freedom of navigation and overflight as China builds up artificial islands in the sea. Ahead of their meeting, Turnbull promised to speak with Li about "maintaining peace and stability in the Asia-Pacific"; one outcome of the summit was a plan to establish a China-Australia high-level Security Dialogue.
Li adopted a reassuring stance in Australia, telling reporters that China did not intend to pursue militarization in the South China Sea.
"[E]ven if there is a certain amount of defense equipment or facilities, it is for maintaining the freedom of navigation and overflight," Li said. "[…W]ithout such freedom, or without stability in the South China Sea, the Chinese side would be among the first to bear the brunt of it."
New Zealand's prime minister also discussed the South China Sea issue with Li. English said the topic was "sensitive" but would not derail the larger relationship.